Elderly artist sells his drawings on the street to feed his grandchildren: man buys them for many times their real value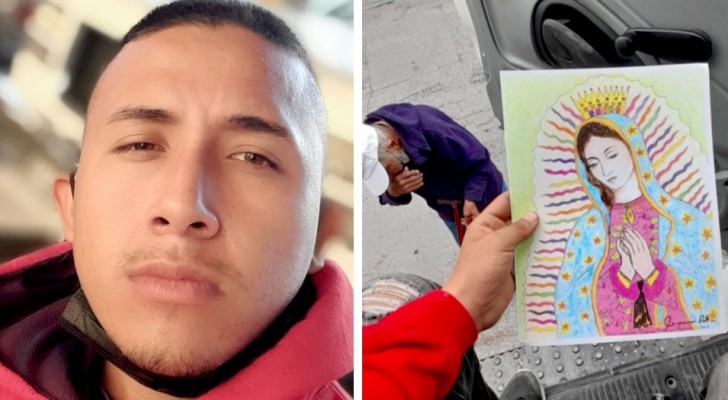 Advertisement
Have you ever walked down the street and bumped into elderly, desperate people in need trying to make a few dollars by selling their art and artistic skills on the pavement? Call them homeless, street artists or simply needy people who need to rebuild their lives and are trying to find a job - these people are trying to make ends meet and are doing whatever they can to survive by peddling their art  on the streets. Very often, these people are treated with indifference by most of the passers-by, while, less frequently, some others are struck by the artistic creations...
via ABC News
Advertisement
Héctor Villanueva, the subject of this wonderful story of kindness and empathy, detailed in a popular Facebook post that he couldn't help but lend a hand to a poor, elderly man who was selling some of his religious art on the street. The man's passion had always been to draw and illustrate religious-styled art. And since his family, and especially his grandchildren, were experiencing serious financial problems, he decided to put his artistic skills to work to bring a few dollars into the house and thereby ensure he could buy milk and bread for his family.
Hector described on social media how he met the elderly, needy man while he was parked in his truck on a work break. When he saw the beautiful and very evocative drawings of the elderly artist, he couldn't help but take a photograph of the artist: "The man was crying because he wanted to sell his drawings to buy milk and bread for his grandchildren and he had no money to do so. He sold me a drawing for 98 cents but I gave him $ 5. He started crying with happiness. "
Advertisement
When the elderly man realized that Hector was buying his drawings for a price more than 5 times higher than he was asking, he burst into tears of joy. He certainly did not expect an act of kindness and empathy like this from the man sitting in his parked truck: "He told me I was an angel. If you see him around, buy his beautiful drawings, you will find him in the San Sebastián neighborhood in Guadalupe!"
Obviously, the post Hector published on Facebook immediately went viral and informed many other citizens in that area of Mexico about the elderly artist and encouraged them to buy his colorful drawings.
It is touching that a photo posted to social media and the purchase of some drawings was enough to cause a show of solidarity that we are sure will assist this elderly man who finds himself in great economic difficulty. We are sure that this act of solidarity will now be enough to allow the artist to afford to buy bread and milk for his family's table. And this outcome is priceless!
Advertisement