25-year-old son finally receives the toys he had always wanted but which his mother could never afford
It is never too late to make one's dreams come true, even if these may be trivial or childlike ones. For example, have you ever wanted a specific toy or a particular item so much so that it burns within you when you were young? But did it happen that, despite your burning wish, you never received the object of your desire for your birthday or for Christmas? We all have regrets from childhood that stem from wishes and dreams we were never able to satisfy, but, as we said at the beginning, it is never too late to reach for your dreams. Even when we reach adulthood ...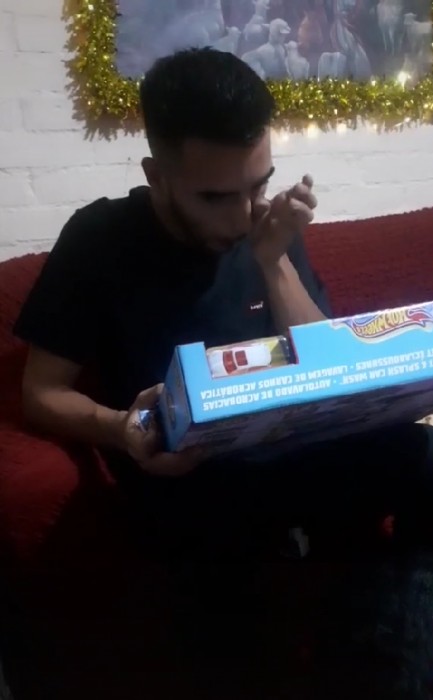 The story we want to tell you about today has a 25-year-old man and his mother as as the main characters. Since he was a child, the young man had always wanted to get a particular model of a Hot Wheels car. And what would be better, he had always wanted a set of the branded toy cars. The years rolled by, but the young man's mother was never in a position financially to afford to get the gifts that her son desired so much. In time, it appeared her son eventually forgot about his long, unrequited wish.
And this remained the case until he turned 25. As an adult, the young man certainly did not expect that his mother would finally give him that gift he had craved for for so many years. When the mother handed her son the Christmas present, he was overtaken with such emotion that he immediately began cry when he unwrapped the gift and saw what it was. His mother had finally be able to let her son realise his childhood dream: she had given him the Hot Wheels toy car set he had so longed for!
In the images that have been published on TikTok, it is clear how surprised the young man is by the Christmas present. Then it is obvious how emotionally moved he becomes when his mother tells him that his childhood dream has come true: "I could never get you this gift for Christmas because twenty years ago I didn't have the money to buy you the toy car set. Now I've made this dream of yours come true ... "
When his mother tells him these words, the 25-year-old bursts into tears of joy because he understands that his mother made many sacrifices to be able to buy him the toy car set. And despite 20 years having passed, a present like this is always a very welcome gift!
And what a thrill this must have been for the young man!