2-year-old boy spends half his life in hospital: his is given a huge farewell party when he is finally released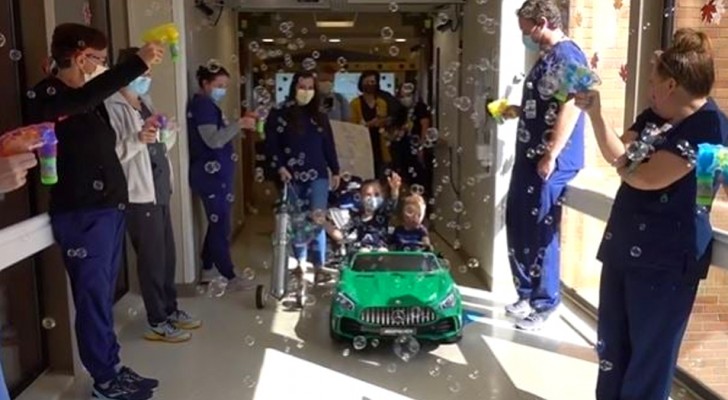 There are children who have to struggle from the moment they come into the world. For some, it is because they were born premature, and because they also suffer from some pathology. In May of 2019, Kari Hazlewood prematurely gave birth to twins, Hudson and Casen. They were born after only 26 weeks into Kari's pregnancy. The two premature babies fought with all their strength to stay alive. Unfortunately, only one of them made it, and today Casen can finally enjoy life out of a hospital bed. Little Casen spent almost a full year in the hospital, which is half of his short life. Between surgeries and checkups, the child has been through a lot, but he has finally been released from the hospital, after fighting like a real little warrior to stay alive. The hospital staff wanted to salute Casen in style, and organised a celebration with soap bubbles and a ride in a toy car through the hospital wards.
via integrisok
Advertisement
At just 2 years old, Casen has already undergone 14 operations and has spent half his life at the hospital. The twins were diagnosed with twin-to-twin transfusion syndrome, a condition that causes one twin to receive less blood in the uterus than the other. This rare condition can lead to the death of one or both twins if not treated properly. Between the twins, it was Hudson who received the most blood, while Casen lacked this resource and which led to him to become malnourished. Once they were born, the situation was reversed and, although the doctors did their utmost to save them both, Casen began to improve while Hudson contracted an infection that caused his demise 12 days later. From here on, Casen's tough battle for life begins.
Casen spent the first 154 days of his life in the neonatal intensive care unit but, in October 2019, doctors authorized him to return home. This return was shortlived - it lasted only 6 days before Casen was forced to return to the hospital. And this started an exhausting routine that saw little Casen enter and leave the hospital constantly.
When the Integris Baptist Medical Center staff finally gave Casen the green light to go home permanently, there was a big party in the hospital to say goodbye to the child who was finally returning to normal life. Hundreds of soap bubbles were blown into the air around him and he was given a "car ride" through the hospital wards, accompanied by the applause and whistles of encouragement of everyone there.
"We love Kari and Donnie and the entire Hazlewood family and we wanted to do something truly special for them," said Erica Liddell, a specialist at Integris Children's Hospital. "What with being in NICU and undergoing 14 operations, Casen spent almost a full year in this hospital. It's half his small life, so we wanted to celebrate his release, big time", she said.
What a great joy it is to see him smile after all this time! We are very happy for the whole family!