Little girl is overwhelmed when she sees her newborn sister for the first time (+ VIDEO)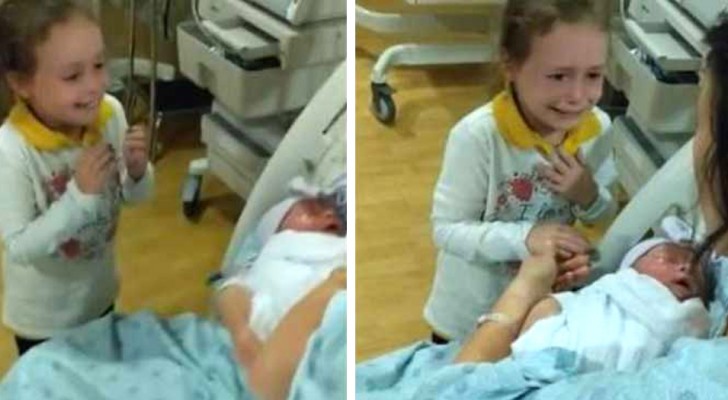 Advertisement
When you are an only child, you often want a little brother or sister to arrive because you can't wait to share play times and mischief. And this is why some parents often ask for a little brother or sister when asked what they would like for Christmas or their birthday. Other children, on the other hand, aren't always enthusiastic about the arrival of a little brother or sister they'll have to share their parents with. What is certain is that little Addy, only 6 years old, has shown herself much more than happy to meet her new little sister. In a video that her parents shared on Facebook, the little girl goes to visit the new born in hospital and begins to cry with joy as soon as she sees her mother with the baby in her arms.
Advertisement
Addy's parents knew that the little girl was excited about her little sister's arrival and they already knew that their eldest daughter had gleefully welcomed the news, but they did couldn't have imagined that she would have such an emotional reaction. One more reason for her parents to film the beautiful scene right from the start! Little Addy, in fact, seems visibly moved as soon as she took the first steps inside the hospital room; when she then sees her mother on her bed, holding the little sister she had never seen before in her arms that she, of course, bursts into tears of joy. No wonder the video has been viewed over 380,000 times!
Advertisement
Addy appears really overwhelmed by emotion once she sees her newborn baby sister: "She's so cute" are her words at the sight of the little bundle that is her younger sister. Even the mother, naturally, was unable to hold back the tears in the face of her daughter's reaction and, in the end, they cried tears of happiness together: at that moment Addy also formed a special bond with her little sister which she will never forget.
In fact, it's really hard not to be moved watching this video!
Advertisement