All 10 of their children started college at age 13 after receiving home schooling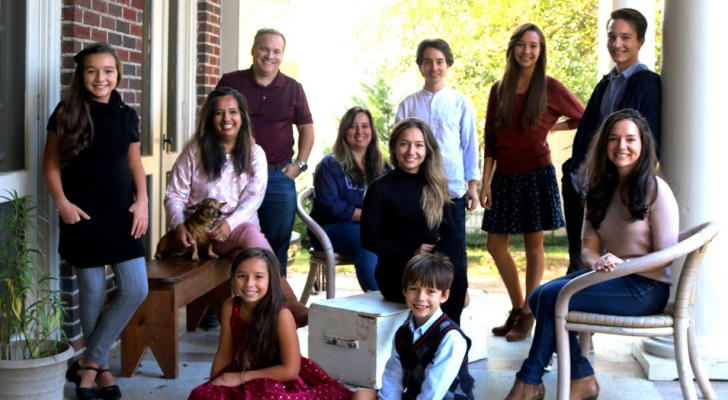 In the Harding family there seems to be a very unusual pattern, which seems to tell us one thing: Kit and Monalisa Harding's children are all geniuses! All 10 children of this incredible couple, now both happily in their fifties, entered university at the age of 13, demonstrating a great propensity for study. Are they all geniuses or are they hiding a little secret? We don't know for sure, - probably in the family they are all very intelligent, - but what differentiates these children from all the others is their schooling: Kit and his wife, in fact, educated their children at home. The practice is called homeschooling and is quite well known, especially in this unusual period, with a pandemic underway, and the frequent inability of children to attend school.
Advertisement
The watchword of the Harding family seems to be "homeschooling", as all their children (10!) Have received so-called home education, achieving truly incredible results. All the boys were able to start attending university courses at the age of 13. Hannah, her eldest daughter, who is now 34 years old, was a child prodigy in mathematics: at just 17 she already had her diploma conferred by Auburn University, in Montgomery (USA)!
Among their children, Kit and Monalisa also had the pleasure of raising, perhaps, the youngest lawyer in the world, Seth Harding, who completed his studies and took the qualifying exam at the age of 19. In short, a family of little geniuses? According to their mother, this is not exactly the case.
Monalisa Harding insisted that her children are not "geniuses", although they are very smart, but she attributes their success mainly to the effort they put into their studies and their upbringing at home, so both she and Kit have made many sacrifices. "The nature of home education is so efficient that anyone can do it. It's just about parents taking the right time to do it and prioritizing their children's education above all else. We are not a wealthy family, we have I had to make some sacrifices in order to have the time to teach each of them individually," the Mom commented proudly.
The couple are now quite known for their teaching methods, so much so that in 2014 they published a book about it. Home teaching is a widespread practice in some families, but still not too common: what do you think? Do you think it can be even more successful than a "real" school?