Security truck loses it's cargo and the road is filled with banknotes: locals help to "clean up" (+ VIDEO)
What would you do if you happened to find yourself looking at a stash of banknotes on the street? Would you pick them up and run away with the loot or ask yourself the age-old question of who did they belong to andshould you try to return them? There is no exact answer, also because each of us knows in our hearts that it would be pretty hard to resist when faced with a large hoard of banknotes, and in fact not even the drivers who found themselves stopping their cars on a Californian highway could resist helping themselves!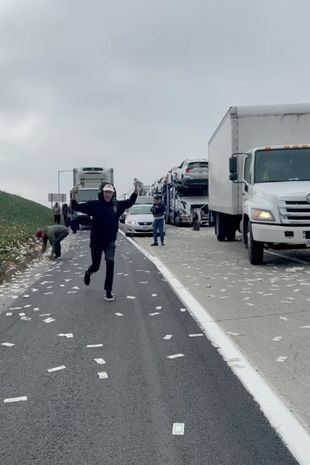 The incredible tale we are about to tell you today happened on a very busy freeway just outside Carlsbad, California; an armored truck belonging to the Federal Deposit Insurance Corporation was forced to stop traffic after realizing that something was wrong: the bags of banknotes it was carrying had not only opened, but because of the tailgate that had suddenly fallen open, a huge amount of dollars had literally poured onto the busy highway. An absurd scene that seems to have come from the set of an action movie, but which instead actually happened.
The driver of the truck had at first tried to recover the money before realizing that he had no chance, as he realized really too late that all the bags containing the US banknotes had spilled out onto the freeway and that all the drivers who were at that moment stuck in the traffic just outside Carlsbad, could not help but stop driving, get out of the car with a stunned, surprised and amazed look, and start "rescuing" all the banknotes that were strewn across the asphalt.
A truly incredible scene that didn't take long to go around the world, especially when fitness influencer Demi Bagby, who was on the freeway at that precise moment, recorded everything with her smartphone and published it on her very popular Instagram profile. The scene was truly bizarre: dozens of people were getting out of their cars to collect the banknotes that had escaped from the armored truck.
Too bad, however, that that money did not belong to them, but to the Federal Deposit Insurance Corporation, and they were forced to return it to the various offices of the financial institution in the city of San Diego. What would you have done in this strange situation? Would you have run away with the loot or would you have had a pang of conscience?
Check out the video posted by Demi Bagby below: