An orphaned child was adopted by a single dad: 21 years later he is an athlete competing in the Olympics
There are many couples who choose to adopt rather than conceive their children naturally. Depending on the country in which you are resident, the adoption process can be more or less hindered, but in any case, it remains a long and tiring journey for both parties. In the 90s, then, it must have been even more difficult to adopt a child if you were single and, moreover, homosexual. Jerry Windle, however, had always dreamed of being a father and one day, after reading an article about a single dad, he inquired about the possibilities of adoption. Jerry was able to adopt Jordan, a Cambodian child who lost his parents when he was just 1 year old, saving him from life in an orphanage. Little Jordan wasn't in the best of shape when he landed in the United States with his foster dad, but Jerry's care and love returned him back to health. Today, after 21 years, he's competing in the Tokyo Olympics, representing the United States.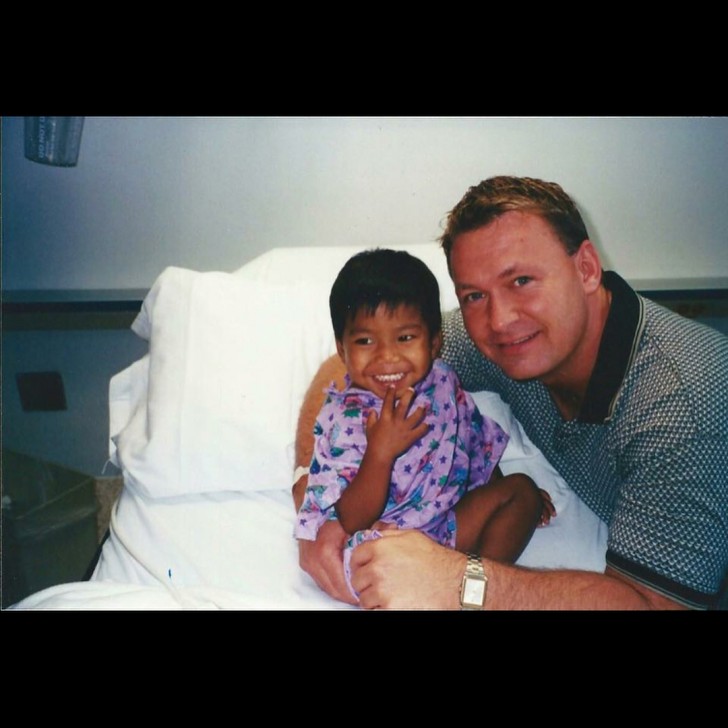 Jordan had ended up in an orphanage after the tragic and untimely death of his parents; when Jerry adopted him, the little boy was only 18 months old and in dire need of medical attention: he was suffering from malnutrition, scabies, various infections and intestinal parasites. Jerry took him on and made the best of brining him up, offering him all the necessary care and love of a parent. Jordan recovered and started his new life in the United States, the country for which, 21 years later, he would compete in one of the largest and most important sporting events ever - the Olympics.
Jordan's sports skills emerged when he was still a child and attended summer camps. The little boy had shown that he was very gifted in sport, especially in water activities and, therefore, it's not surprising that, over the years, he has become a professional athlete. Dad Jerry encouraged him right away, enrolling him in courses and national competitions.
Twenty-one years after that first meeting with dad Jerry, Jordan is competing in the Tokyo Olympics, representing the United States in the diving team. It's a shame his father cannot be physically present in the audience, due to the strict anti-Covid restrictions, but he has stated that he is always with him with his heart. Jordan is very proud of his father: "I can usually hear him in the audience, which is great. Not having him at the Olympics will be different. I wish he was here with me, but that doesn't change what I'm going to do." And Jerry knows how important this sporting event is for his son and he couldn't be more proud of him.
In 2011, Jordan and his father shared another important milestone together, namely the publication of an autobiographical book entitled "An Orphan No More: The True Story of a Boy" - a work created with the aim of spreading the beautiful and a positive story of an orphaned child, who, thanks to the love of an adoptive father, managed to find his way, as well as happiness.
Jordan is really grateful for his father's support and love all these years: "He's everything to me. I wouldn't be here if it weren't for him, his love and support. He's always there for me, he always calls me. I would do anything for him, and I'm sure he would do the same for me."