13 animals who butted in on photos, taking the images to another level
Do you know the meaning of the term photobombing? You have certainly heard it because it's used for all those times that a simple photo acquires an added value due to the unexpected or unwanted presence of someone at something. You know that friend who punctually appears in the background of your beautiful photos sticking out their tongues or making funny faces? There, that friend of yours is, photobombing. Obviously there are photobombers at a certain level, that's when the intruder does something very special or is himself "special".
In this gallery we show you cases of photobombs in which animals are the stars, both as the disturbing and the disturbed. From a certain point of view the photos have been "ruined" by their intrusion, but on the other hand they have been made much funnier!
1. When you want to take a picture of yourself with your colleague and the horse feels left out: after all, he too is a "colleague"!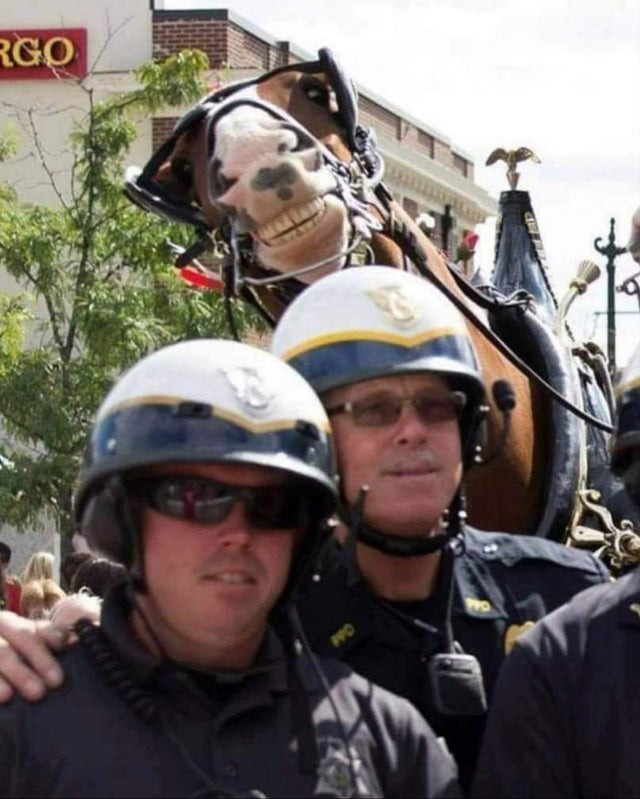 When "photobombing" the horse seems to be smiling!
2. A raccoon has stolen this scene by placing itself in the foreground in front of a night camera: and it's immediately a photobomb!
3. A dad wanted to take a picture to remember the day he spent with his daughter at the zoo: well, we can't deny this is a great shot!
And that kangaroo is making a great face for the camera!
4. According to the dog, the photograph would have come too boring without his presence.
Do you also have a mobile phone full of rahter mundane photos of your children, immortalized in everyday situations? Well, this is definitely a photo that's out of the ordinary!
5. This puffer fish couldn't have chosen a better position: an amazing shot!
6. Something tells us that this husky wasn't too happy that the owner wanted to make an exclusive portrait of the new puppy.
7. What were the chances that that pigeon would pass at the moment of the "click" of the camera?
The photo could have turned out okay ... but like this it turned out great!
8. This family received the honor of a special presence in their group photo: after all, they were visiting an aquarium
9. An unforgettable marriage proposal: how often do you find a giraffe as a best man?
Let's at least hope that it didn't eat the ring!
10. There was too much passion in that kiss, so he came to set things right.
He's certainly not a kangaroo who appreciates romance!
11. When you want to take a picture of one of your two cats, but the other is so jealous that he won't let you.
Note the annoyed expression on the face of the cat whose scene was stolen.
12. When selfies don't turn out the way you want them to be ... and through no fault of your face!
13. An unexpected arrival: she really wasn't expecting that at the moment of the souvenir photo she would be attacked by a bird of prey!
It's really true: animals are part of our life, they accompany us everyday ... even when we don't want them to!