A professor installs a cot in his office to allow a new mother to follow the lessons
Imagine being a new mother, having to take care of your child without giving up your professional and private life: in many cases, the gift of ubiquity would be really convenient, in others a little help would do absolutely no harm to these busy mothers who find it difficult to combine parenting and paid work. Karen Cunningham's story is a prime example of this, even if she has a happy ending to take an example from!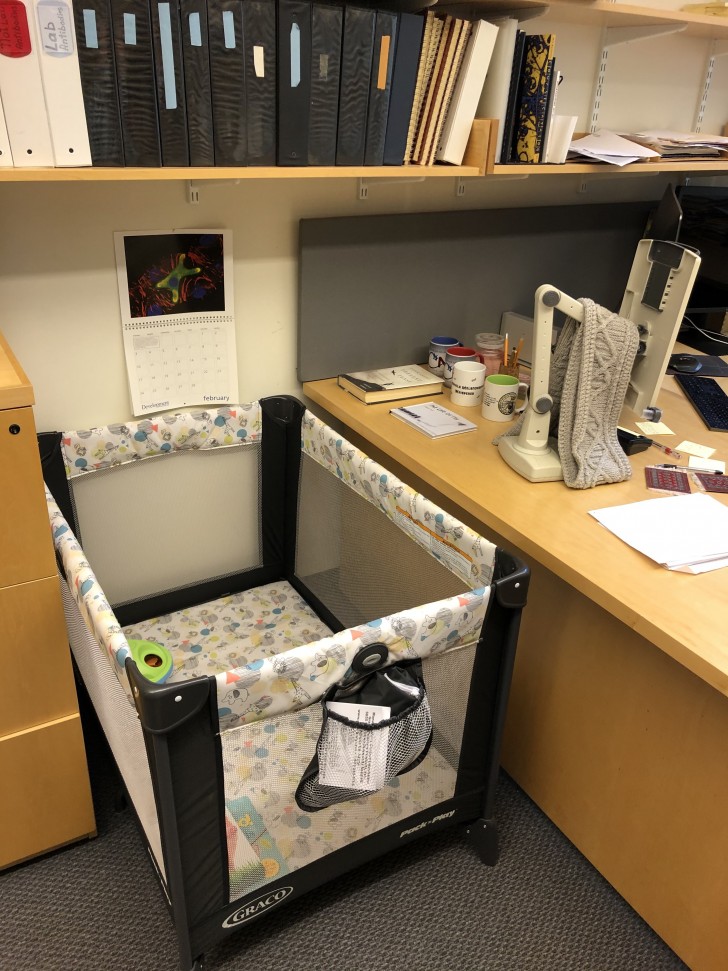 Karen Cunningham is a 29-year-old student at the Massachusetts Institute of Technology (MIT) and has recently had a beautiful baby girl named Katie; now that her little girl has turned 10 months, her mother has decided to resume attending university lessons, even if with the child's needs she would find it very difficult to combine everything.
As a rule, the MIT campus also offer a daycare service for all students who have to attend classes and don't have another place to leave their little one, as Karen would have done, but due to the Covid-19 pandemic it was temporarily closed. How would she combine a mom's role with academic studies?
Her teacher Troy Littleton thought of a brilliant and very altruistic idea; in order for his student to attend classes and carry out her research in the laboratory, he asked the other graduate or undergraduate students to collect some donations to buy Karen a travel cot to install in the professor's office, so that the new mother could carry out her duties in the laboratory without having to be far away from her son.
Professor Littleton said: "Usually in non-pandemic times we have always had small parties for expectant mothers and fathers to give them gifts, but we have not been able to do it with Karen due to the pandemic, so this cot was kind of a present for Karen, only 10 months late!"
Certainly, laboratory hours, which run from Monday to Friday from 9 to 5, were very badly married with the new needs of mother Karen, so the professor and the other students thought that a practical solution would be to bring little Katie directly to them, where she would be cradled and pampered as needed by other colleagues and by Troy Littleton himself.
Of course, Karen Cunningham was more than happy to find the brand new travel cot in the teacher's office; it was a very noble and selfless gesture, which the new mother will always remember fondly: "Now I know that my daughter will never be alone while I have to carry out my duties in the laboratory. At least until she goes to kindergarten this fall!"
What do you think of the idea that this selfless professor and the fellow students of this caring mom had?