He pays maintenance with 80,000 one-cent coins: his wife and daughter donate them to charity
The gift Avery Sanford received in a decidedly unusual way from her father was certainly not the gift she would have expected on her 18th birthday. The man, divorced from his wife, did not remain on good terms with his family. Perhaps it is precisely for this reason that he has decided to send a message that is as obvious as it is inappropriate.
As if it were done out of spite, for his daughter's birthday he saw fit to show up at home with a trailer, on which he had loaded 80,000 one-cent coins. The reason? Instead of paying her maintenance allowance regularly, he wanted to complicate things with this gesture, which certainly did not go unnoticed and to which ex-wife and daughter responded in an exemplary way.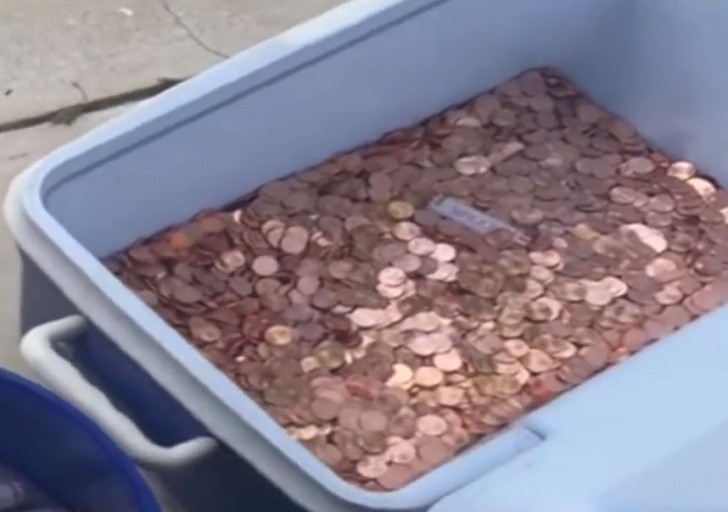 Of course, paying a family member post-divorce support entirely in cents is not a very polite move. Nor was it a joke, because the man in question actually concocted everything in order to make it difficult for his daughter and ex-wife to use his money.
So, instead of bringing gifts or a birthday card to the 18-year-old on her birthday, he unloaded 80,000 cents from a trailer attached to his car right in front of the house where she lives with her mother. "This is your last support check" were the words he uttered when, amazed, the two asked him for an explanation for what he was doing.
Bewildered by what happened, Avery and her mom were forced to collect all the change with a shovel and, after an initial moment of despair, they decided they would turn that situation into something positive. All the money would go to charity, donated to a body that deals with helping mothers and children in difficulty because they are victims of domestic abuse.
It is not the first time that we have seen unhelpful or rude acts like this. It certainly wasn't a very nice demonstration of caring from her father even if, according to the words of young Avery, it was useful in convincing her to distance herself even further from her father.
What do you think of this man's gesture?