He almost misses out on his graduation ceremony because he doesn't have the right shoes: a teacher lends him his
Graduation day is an important moment for all those kids who, finally, can reap the rewards of their school path and start a new one. It's a goal that can be reached with effort and dedication and which, precisely for this reason, deserves to be celebrated properly. In the United States, on graduation days there can be very specific dress codes, which vary according to the institution, and which can be more or less strict. Daverius Peter risked not being able to attend the ceremony, on the day of his graduation, because he wore a pair of shoes, in the mistaken belief that they would not violate any dress code. His teacher, who was there to attend his daughter's graduation ceremony, was able to save the day; the man simply lent him his shoes and sat there in his socks.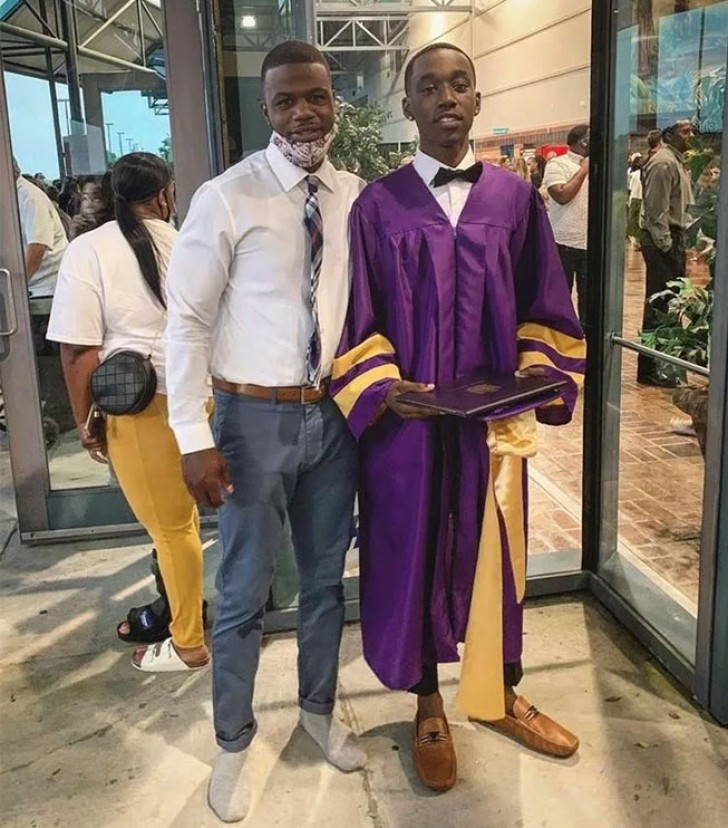 Daverius Petere was looking forward to graduating from "Hahnville High School" in Boutte, Louisiana, and he never imagined his black leather Alexander McQueen shoes would be a problem. His school obviously has a very strict dress code for important events such as graduation day, so much so that his participation is at risk. In the rule it was expressly written that one could participate in the ceremony wearing sneakers, slippers or open shoes; Daverius, however, did not believe he had broken any of these rules by wearing his black leather shoes. Once at school, however, Daverius no longer knew what to do: he certainly couldn't go home in time to change his shoes!
Here you can see the shoes in which the young man had presented himself for the ceremony
It was in his time of need that his teacher, Mr. John Butler, who was there to see his daughter graduate too, lent him his shoes. The man simply took off his shoes, waiting in socks the whole time. A gesture that allowed Daverius to participate in the graduation ceremony without problems. For the young graduate it was a great relief! Of course, the boy never stopped thanking his teacher for his kindness. "You can't stop a kid from receiving his high school diploma just for something as insignificant as a pair of shoes!" Butler commented. And you, do you agree?