Apregnant woman makes friends with a pregnant cat and they spend the last days of pregnancy together
Love for animals is a feeling with which one is born and it's difficult to mitigate it over time; despite the various vicissitudes of life, taking care of a dog, a cat, a bird or any other species in difficulty becomes a top priority. Meet Lauren Maners, a woman who has always loved extending a generous hand to all living beings less fortunate than her, and who couldn't help but bring out her tender side when she found an abandoned kitten on the side of the road. .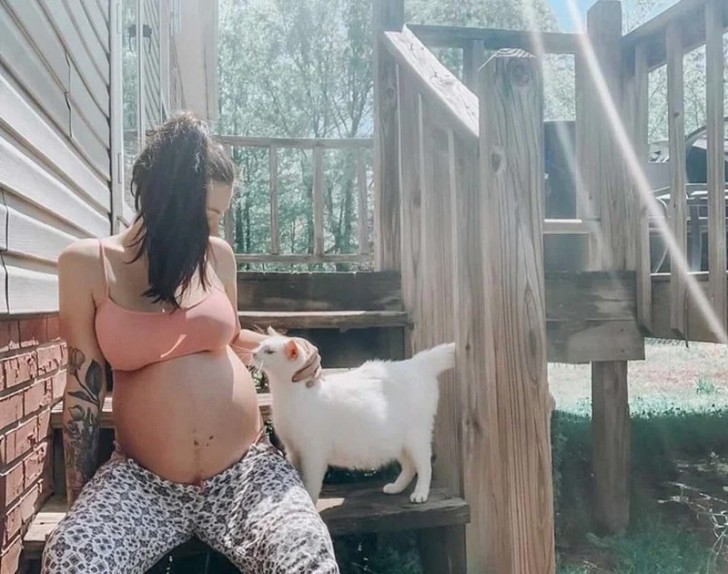 Lauren Maners, who was expecting little Kylie when she found the kitten in distress, couldn't do anything but stop by the side of the road and help her; when she saw her up close, she realized that at that moment the little feline was also pregnant. Lauren had to take her home with her: "I've had a long history of animal husbandry and rehabilitation. When I was nearing the end of my pregnancy, I decided it was time to take a break from all of this, as the animals that I usually raised / rehabilitated were generally sickly and needed a lot of care, which I wouldn't have time for when the baby was born."
Despite knowing that it was better not to take on any more stray and troubled animals until Kylie was born, the woman could not resist and broke her vow: she immediately took the cat to the vet to see if it belonged to someone or if some family was looking for her, but then she discovered that she had always been a stray.
Then, Lauren Maners took her to her house and took care of her every day; as the woman and the cat were both pregnant, a relationship of affection and trust was born; it almost seemed that the cat, nicknamed Dove, perceived that her new mistress shared the same condition as her, the expectation of motherhood that would arrive soon ...
When the woman finally gave birth to her daughter Kylie, she learned that the cat Dove had also given birth to her six kittens; they weren't aware if the cat had given birth on the same day as the woman, but the fact that they met again a few days later and both struggling with their children was an exceptional moment.
Lauren said, "When my daughter Kylie was 5 weeks old, she started noticing the kittens when I took her there to see them and to help me feed them and give them some attention. The kittens were also very curious about my daughter, so contact was made immediately." After a few months, however, Lauren and her family were forced to find a new home for Dove and her six kittens, and despite the sadness of saying goodbye to that all-white cat who had accompanied and supported the woman's last days of pregnancy, it wasn't a final goodbye, but an au-revoir: she has been permanently adopted by a friend of Lauren's, so they can visit her whenever they want!
Certainly neither Lauren nor little Kylie regret the short period in which they took care of the mother cat and her kittens: an experience of sharing and strong maternal instinct that they would never trade for any reason in the world!