"My mom has fainted": a 5-year-old boy calls for help without losing his cool and saves his mother's life
Being five years old and already possessing an extraordinary spirit of altruism and an awful lot of maturity is admirable. It's not uncommon for children of this tender age to possess qualities and characteristics that go beyond their age, and certainly this very positive attitude comes not only from a natural predisposition, but also from an excellent up bringing given at home by a mother and father. Monty Baker, a 5 and a half year old boy from West Sussex in Great Britain, has certainly learned very well ...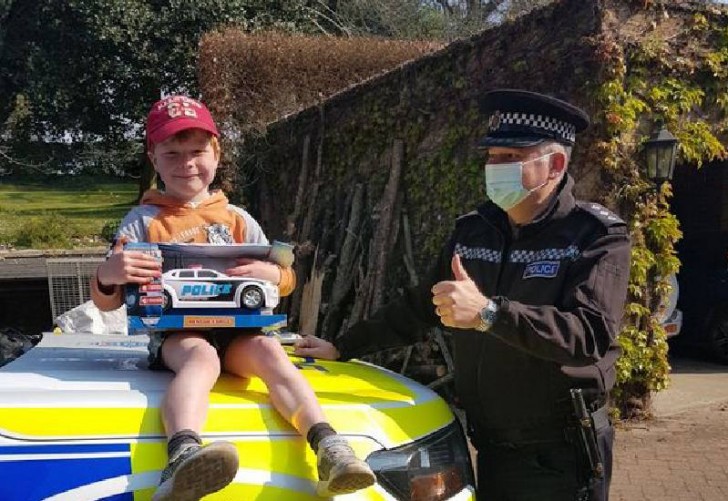 The little boy of only 5 and a half years had no qualms when he was in the living room and saw his mother, a 28-year-old woman with cerebral palsy, suddenly collapse to the ground and pass out; at that time, Monty was left alone in the company of his younger sister Sylvia, only eight months old. Monty knew he had to do something, and so he was brave enough to call 999 himself, to contact the emergency services and call an ambulance.
On the other side of the phone there was operator Holly Simmons who recounted the conversation she had with the little boy: "Monty was so calm and brave and it was so easy to keep him talking until the paramedics and police arrived. He gave his mother's name, his address and made sure the door was open. We talked about his little sister, his grandmother's lunch and he answered my questions about how his mother was and what he had done when she passed out earlier. He's such a lovely guy to talk to, it was a joy."
Once the ambulance arrived, Monty took his bicycle and went home alone to his grandparents with his little sister; shortly after, mom Amber fully recovered and was literally moved when she found out that it was her five and a half year old son who had called for help and practically saved her life: "He is such a blessing and an inspiration to me every day. He is a very happy, loving, kind and courageous child!"
Sussex police, who had intervened after the 999 call, were so impressed by Monty Baker's heroic gesture that they decided to give him gifts for his sixth birthday: from the police officers, the brave child received a beautiful model of police car. A well-deserved gift for a child with strong nerves and much more mature than his chronological age.
You did great, Monty!