An impoverished grandmother with health problems asks for help to take care of her 7 grandchildren: she has nothing to eat
It often happens that grandparents have to take care of their grandchildren who, otherwise, would be neglected or left to fend for themselves. This happens all over the world, but more frequently in those poor countries, where violence reigns due to lack of education. It's in these situations that, often, a parent is forced to abandon their children to try to build a better future for them; at best, the little ones stay with their grandparents or with some other relative who decides to take care of them as best as possible.
In Yucatán, Mexico, a grandmother takes care of her seven grandchildren but, given her serious health problems and the impossibility of continuing to be 100% there for them, she decided to appeal to the good heart of the users who populate social networks.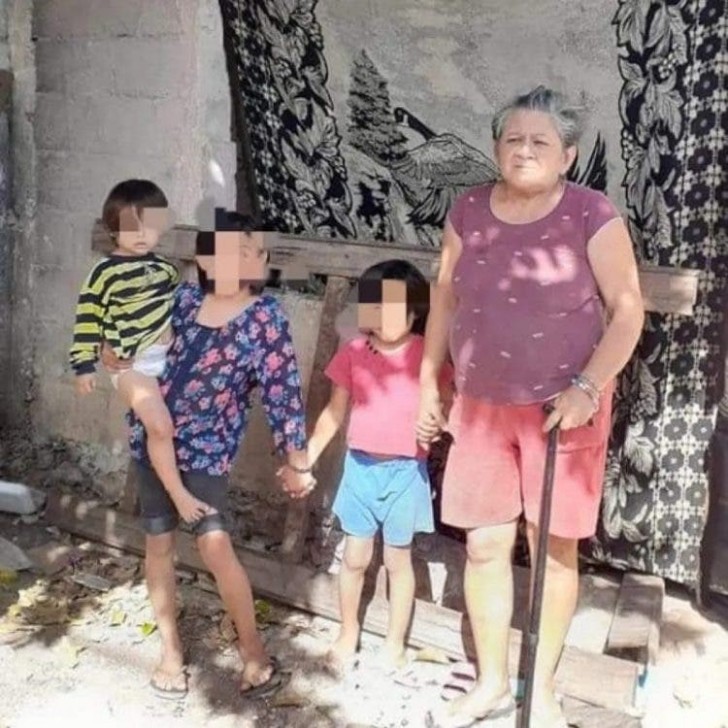 When you have nothing to eat and you don't know what to bring to the table for your children or grandchildren, you live in such a staate of poverty that it would take very little to greatly improve your situation. We are talking about donations, from those who are luckier, which include food, clothes, blankets and other basic necessities and which for most wealthy people are taken fro granted. This grandmother, who posted her photograph on social media, stirring the spirits of many users, no longer has the same strength as she had in the past to be able to take care of her seven grandchildren full time, and above all to do so effectively, due to her serious health reasons. The elderly woman, in fact, has cataracts and her vision is likely to fade more every day. In addition, the grandmother is also asthmatic and as a result she had to remain sheltered during the wave of Covid-19 which mainly threatened frail and older people.
Without work or a future prospect of things getting better, this woman humbly asked for help from anyone who could give her some essential and basic necessities. Her grandchildren are all aged between three and eighteen and for her, being over sixty, it's not easy to take care of them. We don't know exactly what happened to the parents of the children, given that the grandmother refuses to talk about it, but the fact remains that the situation they are living in is still dramatic. Since their family history was made known by a local newspaper, some citizens have started to actively help their grandmother, organizing food donations and various kinds of collections.
We hope that this woman will be able to guarantee a dignified future for her grandchildren, thanks also to the good heart of many people in her community.