At the age of 101, she submits a job resume to feel independent from her grandchildren: in the end, a company responds to her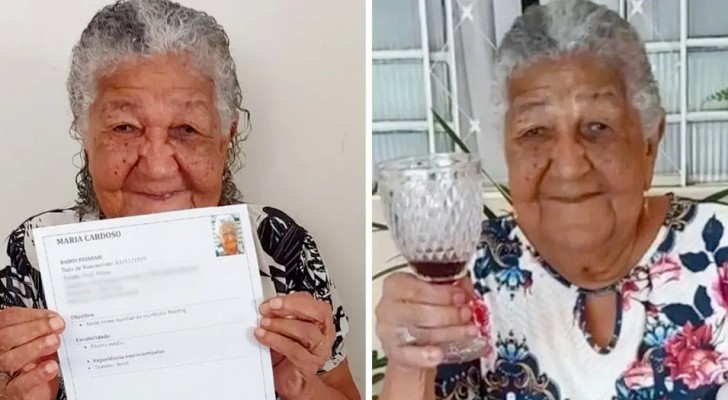 Advertisement
There are those who give up immediately in the face of adversity and those who never give up, fighting with courage and tenacity to fulfil their desires, their dreams and their life goals. Sometimes, not even old age acts an obstacle to achieve one's path, and Maria Cardoso knows this well. The woman that is the protagonist of this exciting story that took place in Brazil has just turned 101 years old and, to make herself even more financially independent, she began looking for a job by sending out her resume.
Advertisement
Maria Cardoso was born in 1919 and currently lives in the city of Promissao in Brazil; having reached a certain age and having to rely on her grandchildren and great-grandchildren for every need, she decided that she would do anything to make herself a little more independent, especially from a financial point of view. For this reason, she asked her great-granddaughter Pamea for help in compiling a curriculum vitae to be sent to an agency that was responsible for finding work for citizens.
What Maria and Pamea could never have expected was that their story would go viral thanks to Maria's CV being shared on social media by Juliana Araujo, head of human resources at a winery.
Advertisement
Juliana wrote: "Mrs. Maria, 101 years old, is a woman who asked her great-granddaughter to submit her resume because she wants to work and therefore doesn't want to depend on anyone to buy the wine she likes so much. A lesson in courage, strength and independence for all of us!"
Sharing these words on social media meant that Maria and her family were subsequently contacted by this winery in the area to ask the tender 101-year-old granny to act as a privileged taster of their wines and to become their "image" for advertising campaigns!
Maria Cardoso obviously accepted very willingly, and she knows very well that without the precious help of her granddaughters she would not have been able to find this very profitable job: "I'm very happy, they are finally valuing me. I almost want to cry!" said the centennial grandmother.
For a woman who has worked all her life since the age of 9, who cannot read or write and who has now searched in every way for someone who would make her "useful" and at the same time independent, this is indeed a great result!
Let's drink to your health, Maria!
Advertisement