He arrives at school 1 minute late and the teachers isolate him from his classmates: his mother goes on a rampage
It has happened to all parents at least once in their life that they accompany their children to school late; whether they are a few minutes or an hour late, it's the child who pays the consequences too often, first scolded and reproached by the teachers and and then shamed in front of all his classmates as a "late child". A bit over of an over the top reaction  for a few minutes of lateness, yet in an Oregon school the unthinkable happened ...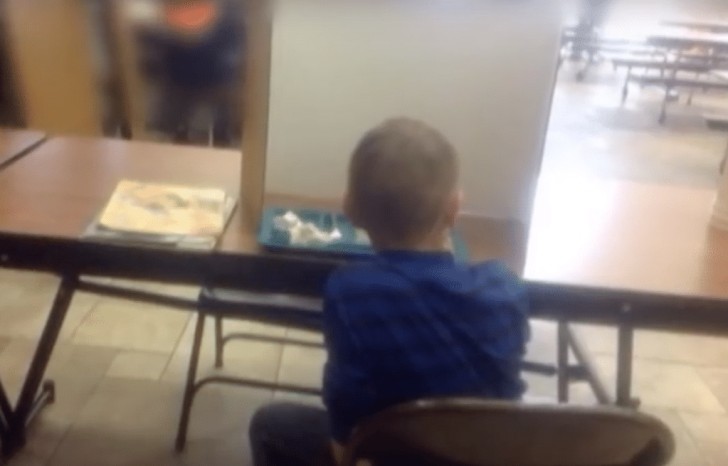 Mom Nicole was accompanying her 6-year-old son Hunter to school; the little one attends the Lincoln Elementary School at Grants Pass, and has never been late for class before that, unfortunate time; that morning Mum Nicole's car just didn't want to start, and so not only did they have to go to a mechanic to have it repaired at exorbitant cost, but the child had to arrive at school a few minutes late; a delay, however, which apparently was not well tolerated by Hunter's teachers ...
Nicole knew that being late in her son's school automatically meant paying the price of detention, so to feel more secure and check that Hunter was okay, she showed up at the school during the pupils' lunch break; what she saw, however, shocked her completely ...
Hunter had been punished for his late arrival in an obvious way: her son had been separated from the rest of his companions, he was sitting at a table, alone, in a place where a column blocked him from seeing the other children who were eating together. But that was not all: Hunter was drinking from a cup imprinted with the letter D, which stood for "detention". Nicole flew into a rage, took some photos to report the facts and, thanks to her mother's Facebook profile, she published them to everyone online and her community.
Hunter's grandmother's post said, "This is my grandson, Hunter. He's a first grade student. His mother's car sometimes just doesn't want to start. Sometimes he gets to school a couple of minutes late. Yesterday he was 1 minute late and this is how his mom found out they punished him! They made fun of him in front of the other students! The principal is responsible. His mother found him there, in tears, and took him to home. Anyone want to help me bombard this headteacher with phone calls and tell her how inappropriate it is? "
These words of denunciation made the rounds of the Grants Pass community, which inundated the school management with messages of indignation and anger and gifted an unforgettable surprise for Hunter's family: the community raised a collection and bought a New car to Nicole and partner Mark, including a $100 gas refueling coupon!
A story with a happy ending that seems straight out of a storybook, where the "bad guys" get what they deserve and the good guys always triumph in the end!