"I'm crying like a fountain": 17 moving scenes that give us faith in a better future
This little boy looks with tenderness at the photo of his father who fell in the war as a soldier ...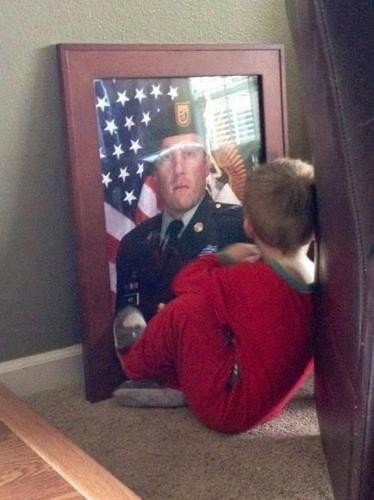 A little girl is comforted by a Red Cross volunteer after a terrible road accident ...
As ordinary as this photo may seem, it's the last shot taken of our little dog: he was 15 years old
A lifetime together, even at the stadium!
A boy, blind from birth, runs like a pro with the help of his friend and ... a rope!
I returned home to my parents after a long time, and my dog just didn't want to leave me for even a minute ...
The son of a firefighter who fell at work and is honored properly: a truly touching scene!
The last survivor of his battalion at a parade celebrating WWII veterans ... how sad!
A granddaughter announces her official engagement to her grandfather in his retirement home: they can't touch each other except through glass!
A moment of simple happiness, which is taken too much for granted nowadays: a selfie with dad and the kids!
I bought my girlfriend a bicycle: it was the first time she had ridden one since she was a child!
A picture of happiness: my grandfather all smiles finally having lunch with me in his favorite place!
Ultimately, it is the thought that matters.
My best friend reached 20 years of sobriety, and I thought this cake might please him quite a bit:
My brother saved a little bird's life, and now he's taking care of it!
I found a frog in my garden this morning, and I saved it from the busy road!
Anonymous messages at school that make me very happy: "You are so, so beautiful!"