17 strange family photos from past Christmases that we wish we hadn't seen
1. "Our dogs weren't exactly in the Christmas mood. This photo was perhaps the worst from that photo session, but today we keep it framed in the entrance to the house: it's a great talking point"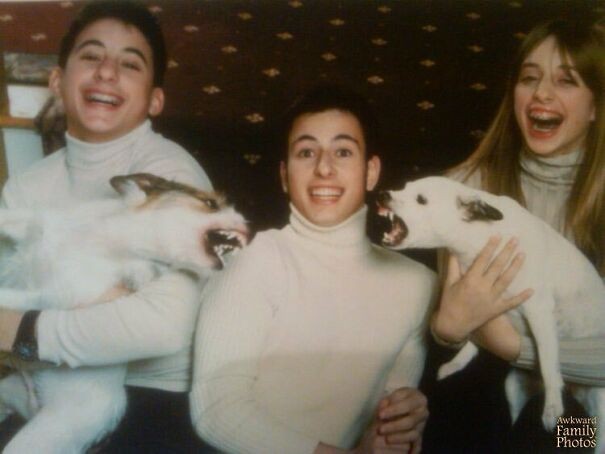 2. "My family thought I was depressed, so they gave me this horrible picture of a clown to cheer me up."
3. "I found this old photo of me meeting Santa Claus. Too bad that from his expression he looks like he wants to cook me in a pot instead of bringing me the gift I wanted!"
4. "My sister and I thought it would be a great idea to give a photo to our mother of her grandchildren. Two hungry babies and an extremely bored 3-year-old - this was the best shot of the day."
5. Do any of you actually have good memories of Bingo or any other game at Christmas?
6. "Oh dear ... this is the only photo from when I was little that survived!"
7. "Mexico, 1995: it's 40 ° C in the shade but my mother wanted me to take a picture with this poor sweaty Santa Claus"
8. Christmas in the 80s...
9. "This joyful photograph of us was taken at a 1994 Christmas party in Maysville, Kentucky."
10. Every year, the same nightmare...
11. "My uncle comforting my father, who had broken nis new toy on Christmas morning"
12. "What a terrifying Santa! I'm the one crying in front ..."
13. And the parents paid hard cash for these Christmas photos ...
14. "Our aunt Helen put so much effort into making these dresses but I just didn't want to wear mine. I'm the one laughing on the left but I'm actually red from crying. I at least agreed to take off my headphones."
15. "At the time I thought it was completely normal"
16. The battle of the presents!
17. Happy Christmas! (2005)