A couple try to have a daughter but are eventually blessed with quins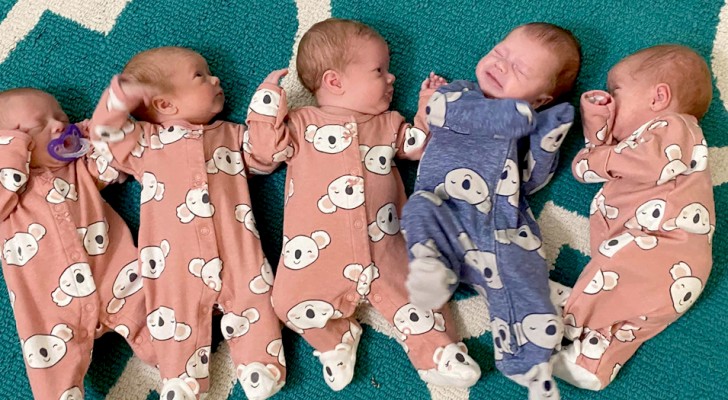 Advertisement
They just wanted a baby girl in their family, as their two previous children, seven-year-old Jacob and two-year-old Matthew, were beautiful little boys. So, Joshua and Megan decided to try for a third time and see if the ong awaited princess would arrive. Not only was their wish fulfilled, but in an extraordinary and rare event for current medicine, Megan gave birth to quintuplets!
via The Sun UK
Advertisement
After some attempts at fertility treatment (Megan unfortunately suffered from polycystic ovary syndrome, a hormonal disorder in which women can have infrequent or prolonged menstrual periods or excessive levels of androgen hormones), the couple became pregnant in a completely miraculous way: the ultrasound revealed not one, but five heartbeats. Joshua and Megan had had a quintuplets on the way!
According to doctors, it was one case in 43 million, news that on the one hand filled the couple with joy, on the other hand made them fall into total despair: how would they face such a rare and demanding pregnancy?
Advertisement
In the end Megan decided to face it with a smile and optimism, taking a picture of her baby bump at least once a week. On September 2, 2020 the woman gave birth by cesarean section and, despite some complications in terms of blood pressure and post-partum pain, the five siblings were born, one every four minutes: Allison, Madison, Emma, Adam and Chloe!
Although Megan was discharged about three days after giving birth, the fivefold children remained under observation in intensive care for about three weeks, waiting for them to stabilize ...
Certainly the arrival of five new babies in the house has wreaked havoc in the family: Jacob and Matthew were really excited to finally have four little sisters and a new brother at home, while Joshua and Megan initially had difficulty sleeping at night with all five newcomers to cuddle, put to sleep and properly feed!
The first few weeks were not easy for this now much enlarged family, but all is well that ends well!
Joshua and Megan got what they wanted from life after all, and more, don't you agree?
Advertisement