A little girl takes a nap hugging her dog and cat: a moment of rare warmth and tenderness
When you have a dog or a cat at home to keep you company, you really have everything you need: affection, closeness, unconditional love, and why not, a lot of understanding. It's difficult to feel lonely with a four-legged friend around. And when in this loving relationship there is also a child, it's the sweetest thing. An, the owner of a beautiful golden retriever and a cat who have become very close to her little daughter, knows something about this.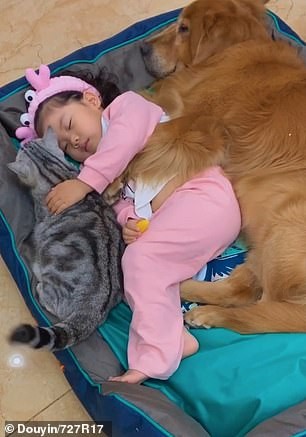 The extraordinary relationship which has been grown between this little girl, the golden retriever named Dabao and the cat called Motor is featured in these tender images published on the Chinese social network Douyin, where An testified to the deep friendship that distinguishes this unusual trio.
This cute and unusual family live in Guangzhou in the province of Heilongjiang, in the north-east of China, and thanks to their photos and videos on social media they have won over 3 million followers!
It's impossible not to fall in love with this trio. One of the most popular shots that found followers on the Internet was the one which portrays An's daughter, the cat Motor and the golden retriever Dabao as they sleep all nestled and huddled together, as if they were a real family, full of tenderness and sweetness!
These images are not only capable of melting our hearts with their tenderness, but they show us how much the concepts of warmth and sense of family can easily be extended to our dear four-legged angels!