He divorces his wife after 19 years and begins a relationship with two women at the same time
Of course it is hard to separate from your wife after 19 years of marriage, especially when you then choose to live a decidedly "crowded" romantic relationship. Yes, because Shai Fishman, a 46-year-old businessman from Pennsylvania, decided that the relationship with his wife Danielle was no longer working, despite the fact that in recent times they had also tried to be an "open" couple, that is, available to dating outside the marriage.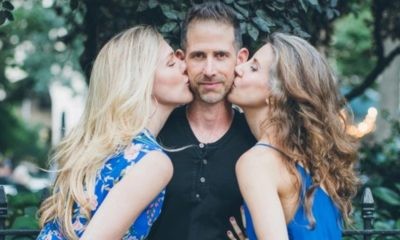 After a period of open marriage that lasted about 7 months, both Shai and Danielle realized that their married life and love for each other was no longer as strong and profound as it once was; despite also having children, the two decided to separate after 19 years of living together, but Shai not only decided to give up Danielle, but to follow the adventurous path of polyamory.
Yes, because Shai is now dating two women at the same time: 40-year-old Krissy, and 41-year-old Lea, who met on an online dating site.
Although initially the two women were convincted monogamists, now Shai has converted them to polyamory; this is why the man considers himself committed at the same time to both Krissy and Lea: and the two women are more than happy!
Now Danielle lives with her children and her new partner, while Shai lives separately with the two women. Of the previous marriage, the man said: "We had been together for about nineteen years and things changed around the thirteenth year of our marriage. I had always had doubts about monogamy and about being with one person. Then I saw the Big Love & Polyamory and Married and Dating TV shows, and I read some books. This gave me a whole new perspective and an appetite for learning more about ethical non-monogamy. "
On meeting the two women, Shai said instead: "I met Krissy five months after I met Lea - both on a dating site. They both listed themselves as monogamous and ticked" polyamory's not for me", but I didn't let that this hold me from connecting with people. You never know how open-minded someone can be."
Now, Shai, Lea and Krissy are a happy and carefree polygamous trio; all three feel deep affection for each other, but at the same time continue to have a relationship open to adventures and flirting with other people outside the relationship.
In short, it seems that this polyamory is a demanding business!