At 89 he still works delivering pizzas: a couple help out him with a $12,000 "tip"
The third age should be a peaceful time for everyone, in which to be surrounded by the loved ones in our life and to live peacefully without too many worries. Unfortunately, not all seniors are so lucky: some of them are unable to even have what should be the norm.
Derlin Newey is one of them: to get by and meet all his expenses, at the age of 89 he is still forced to work delivering pizzas, an occupation in which we usually expect to find young people, perhaps in their first work experience. The life of this old guy, however, was destined to change a lot. By a lucky coincidence, he met two people who took his situation to heart, improving it as he never expected.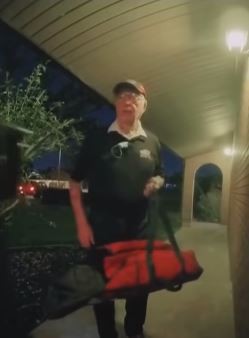 We are in Utah, where Derlin lives and works, serving the well-known Papa John's pizza chain doing home deliveries. One evening, like many others, has changed everything for him. The elderly man in fact rang the door of the Valdez family, which includes Carlos, a very famous figure on the social network TikTok.
After having a lovely chat with the 89-year-old, filmed and shared on the web, the Valdezes couldn't help but be impressed by the man's story and his kindness. So they decided to help him, making his situation public and gathering views and emotional reactions from many users. But that's not all.
To do something concrete for Derlin, still forced to work at the age of 90, Valdez and his wife organized a fundraiser for him. It took little, given the fame of the couple, for their charitable work to reach completely unexpected results. Over $12,000 was raised in a matter of days - a very substantial "tip" for Mr Newey!
The Valdezes, for their part, couldn't be happier with the result and couldn't wait to tell Derlin what they had done. So they went to his humble mobile home to deliver the collected money to the man and give him a wonderful surprise. The 89-year-old could not hold back his tears, incredulous about what had happened and almost speechless with joy and gratitude.
Finally, this elderly man will be able to have a little more financial security on his side, certain of having the money with which to cover his daily expenses. A beautiful story that teaches us, once again, that we must never lose hope, and that luck can always be around the corner or, as in this case, behind the door!