Boy with prosthetic legs walks 10 km and raises 1 million euros for the hospital that saved his life
Nothing is impossible if we put our minds to it. And this isn't just an expression we say to ourselves to make us feel better. Men, women, and children everywhere have pushed through so many obstacles just to make their dreams and ambitions become a reality. For those who have achieved their goals and dreams, they are an inspiration to us all. 
One person in particular who has inspired us is a 5-year-old named Tony Hudgell. Tony lost his legs when he was just an infant; he became legless after an abusive incident that involved his biological parents. Despite his traumatic childhood, and having to walk with the help of crutches and prosthetic legs, Tony leads a happy, normal life thanks to his adoptive parents and the medical staff that saved him. To try to give back to the hospital, Tony decided to attempt the impossible. And he succeeded.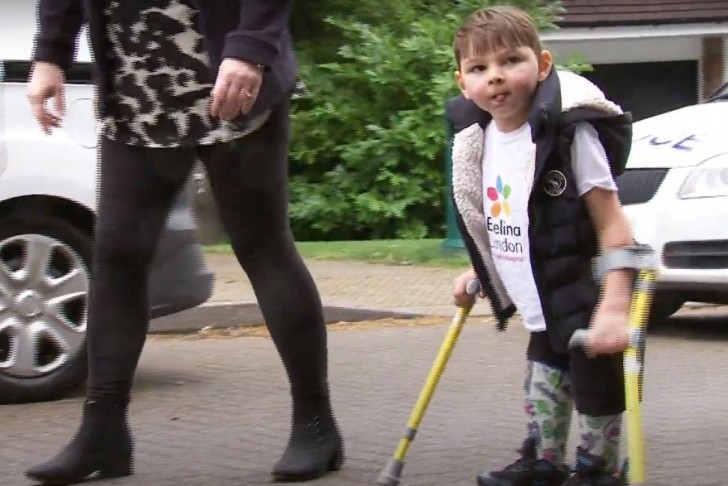 Walking with two prosthetic legs isn't an easy task by any means. When Tony heard, however, that the hospital that saved his life was having a walkathon to raise money, he knew he had to participate. Most kids in his condition would've chosen to walk 1 or 2 km, but that wasn't good enough for Tony. Tony was going to walk 10 km in the span of 30 days. How much money could someone like Tony raise in a month? Over 1 million euros, that's how much!
Tony's goal at the beginning was to walk to raise awareness; whatever money he made along the way was just an added bonus. No one had ever thought, however, that Tony would've raised such a huge sum. His walkathon took place in his hometown of West Malling, England. Although 10 km doesn't seem like much, especially when spanned across 30 days, Tony's adoptive Father, Mark, assured everyone that it wasn't easy. In fact, before he started the walkathon, Tony could barely take more than a few steps without feeling fatugued.
Then, when you think about how young Tony is, it really demostrates just how determined he was to raise money for the hospital that saved his life. Furthmore, it demonstrates just how special of a kid Tony actually is. At the end of his walkathon, people were waiting at the finish line cheering him on and praising him for what he had accomplished.
The amount that Tony raised ended up being over 1,100,000 euros and is going straight to Evelina London Children's Hospital, the facility that saved Tony's life. With this wonderful donation, the hospital can go on saving other children's lives so they can have a better future like Tony.
Once Tony reached the finish line of his walkathon, his adoptive parents were there waiting with a smile and their arms wide open. Tony may have been unlucky before he met them, but he for sure is happy now and achieving things most of us only dream of.
Way to go, Tony!