Fireman rescues a puppy from the street and brings it to the kennel: after a few days he returns to her and decides to adopt her
Sometimes the strongest and most lasting friendships are born in the contexts in which we least expect it, and in the most unusual moments. Think about it: it is precisely the most unusual events, in which maybe we meet special people, which are the ones we remember later with the greatest pleasure.
The same was true for the American firefighter Mike Thawley and Chunk, a pit bull puppy of just 3 months, who certainly did not have a happy experience. Unfortunately her life did not start in the best way, having been abandoned in the cold on the street, tied to a tree. Her fate, however, was destined to change forever, and fortunately in a positive way.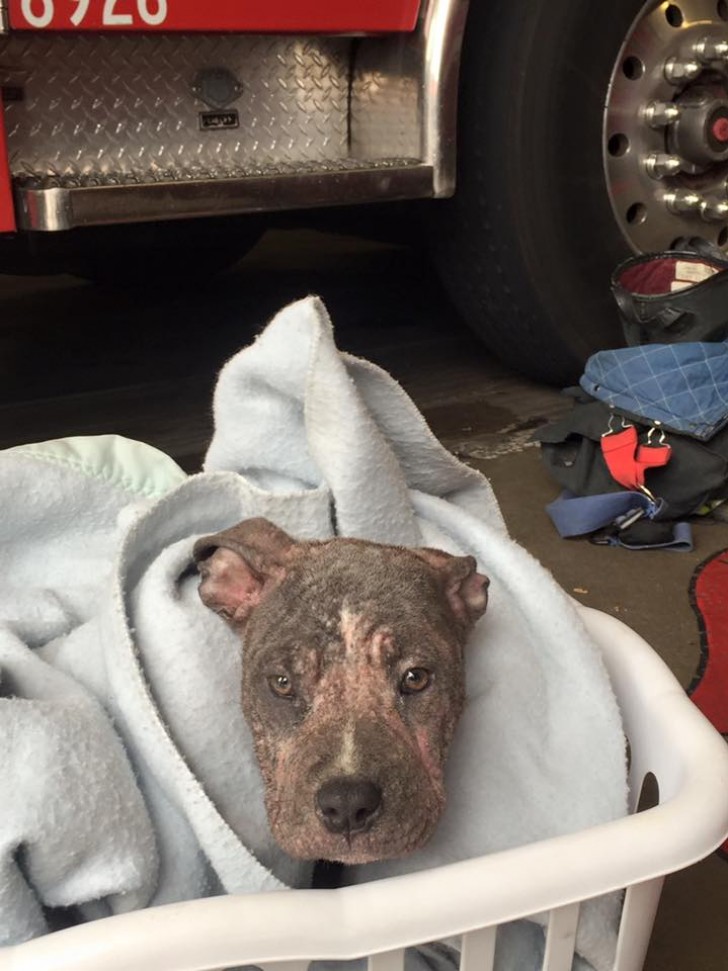 Frightened, trembling, confused and in poor health: this was the condition of the poor dog when Mike and his team of firefighters passed by her on the street. The brigade noticed the puppy on the way to an emergency after receiving a call. Upon returning to the station, Mike decided to stop to pick it up, and then take it with him to the station.
There the firemen did their best to help the little pit bull. After a hot bath, some food and a good dose of pampering and attention, they decided to take her to the Front Street animal shelter in Sacramento, so that she could receive all the care she needed in a specialized facility. There, Mike thought, they would also take care of finding her a home, even if an idea was already beginning to take form in his mind.
Little Chunk, as it turned out, was suffering from mange, fortunately in a mild, treatable and non-contagious form. The disease, however, was causing her to lose part of her fur, and at the shelter they immediately began to care for her in the best way to had her restored to health in a short time. The day after she entered the shelter, the dog was visibly saddened. As was Mike, who returned to the facility, unable to stop thinking about her.
The reaction of the puppy, when she saw the fireman who had saved her, was incredible. With uncontainable joy, she greeted him with sweet and adorable enthusiasm. The scene was filmed in a video that quickly made the rounds of the web, and whihc on viewing which one cannot remain unmoved. It was obvious at that point that Mike and his family would take Chunk with them: everyone had simply fallen in love with her, and the puppy reciprocated. A beautiful story with a happy ending for this dog, who has found a home and people willing to love it as it deserves after so much suffering!
Foster Fail: Sacramento Firefighter Mike Thawley, as part of the crew of Engine 14, rescued Chunk the puppy back in October. She was very sick and unhealthy, tied up to a fence and abandoned in the rain. Mike and the crew brought the dog to the Front Street Animal Shelter, where she began the long road of recovery. After Chunk had gotten a clean bill of health, Mike took her home as a foster puppy. However, his wife and three daughters quickly became attached to the dog, and it was only a matter of time before the Thawley family permanently adopted Chunk. Today, Mike came to Front Street to pick up Chunk one last time to take her to her forever home, as all her medical procedures are now finished. Way to go Firefighter Thawley, and thank you for your compassionate service! Front Street Animal Shelter - City of Sacramento

Pubblicato da Sacramento Fire Department su Venerdì 3 febbraio 2017