This girl's sweet drawings manage to describe love better than many romantic words
There are scenes with which everyone, sooner or later, can empathise and identify. Let's think for a moment about our daily lives and our relationships as couples: there are certainly many situations that we think of with pleasure and with a sense of security and satisfaction which are indications of a beautiful and loving relationship.
Yes, because love, often and willingly, is the engine that gives us the strength to go on, also through the great little gestures and habits that make our life better. Zipcy knows this well, a 30-year-old Korean girl who, out of passion, draws fascinating illustrations in which love is at the center. Tenderness, kindness, complicity, passion and mutual help: we find all this and much more in her images. All that remains is to admire them, confident that all lovers will be able to recognize moments already experienced.
1. Sometimes an embrace is everything: a gesture more important than a thousand words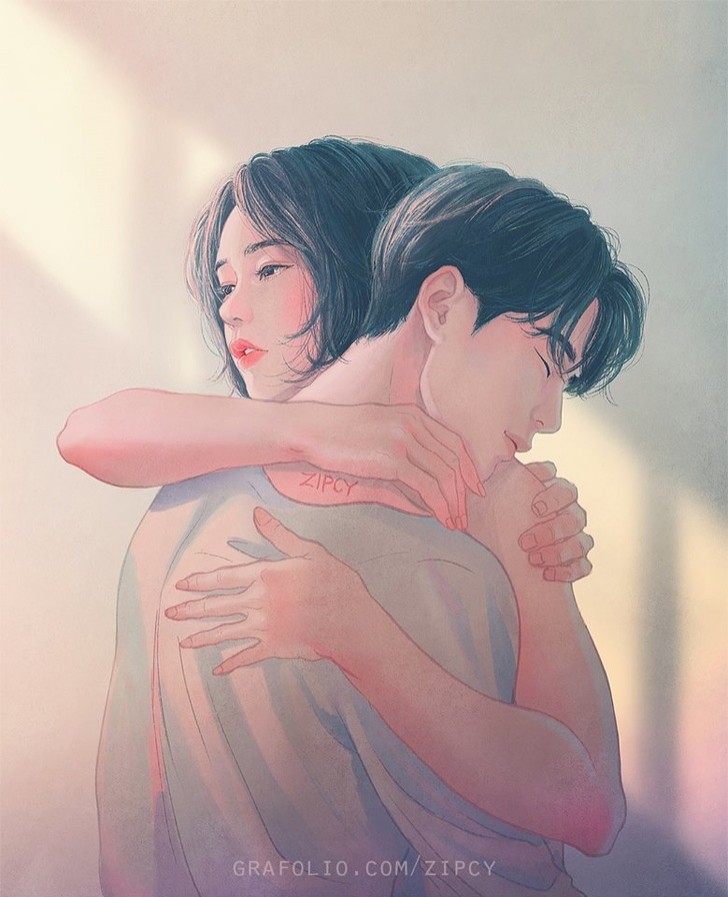 2. Being together also means sharing the "small" daily moments, no less important than the others
* Happy Holiday * " 이런 날엔 캐롤이 울려 퍼지는 거리의 데이트도 좋지만, 따듯한 전기 담요 안에서 네가 주는 새콤한 귤을 받아 먹으며, 함께 포개어 늘어지는게 더 좋더라 " . 크롭되지...

Pubblicato da Zipcy su Venerdì 22 dicembre 2017
3. Those in love know this: falling asleep like this is healthier than any medicine
4. In moments of despair, having a loved one by your side means receiving support and consolation
오늘부터 매주 토요일, 닿음 연재 재개합니다. 음악과 사연이 함께 있어요. grafolio.com/works/421440 앞으로는 그라폴리오 선공개 후, sns에는 2주 후에 공개해요. 그라폴리오에서 제일 먼저...

Pubblicato da Zipcy su Venerdì 15 dicembre 2017
5. It takes little to make us feel better when we are sure of our love
참 신기하지. 네 무릎 위에 머리를 뉘이면 무겁던 머릿속이 한결 가벼워 지는게_ 'How strange it is that my head feels so much lighter and clearer, resting...

Pubblicato da Zipcy su Mercoledì 18 ottobre 2017
6. It is often the small gestures that count
7. Two lovers don't care about their surroundings: their mutual company is enough to feel good
8. A tender and romantic kiss
9. They sleep protected and comforted by each other
Full ver. 사랑받는다고 느끼는 순간_ Just a peck on my forehead please, before we fall asleep. Because, although it's a small gesture, it makes me feel incredibly loved. http://grafolio.com/works/509075 양세은

Pubblicato da Zipcy su Mercoledì 16 maggio 2018
Aren't these illustrations gorgeous?