Mother and daughter graduate together from Medical school: they are now working at the same hospital
Whoever said that, after reaching a certain age, you have to give up on your dreams? If you've been sitting on an idea or a goal for a while, but not sure if you have the time or the money to do it now, you should keep in mind that it's never too late to achieve something. This is not just something that someone says to make another person feel better about their current situation, it actually has some truth to it. 
All you have to do is read this story about Cynthia Kudji and her daughter for proof.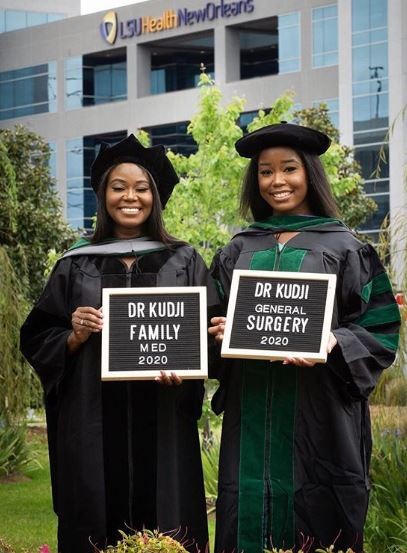 Cynthia, originally from Ghana, always dreamed of becoming a doctor one day. That dream, however, was put on hold when she became pregnant with her daughter, Jasmine, at the age of 23. Despite her circumstances, Cynthia never lost hope that she could one day achieve her dream of becoming a doctor. For years, she worked as a nurse in order to take care of Jasmine while she was growing up.
Jasmine also had a dream of becoming a doctor and, after receiving her bachelor's degree, she enrolled herself at LSU School of Medicine in Louisiana. This meant, however, that she had to move far away from her mother. Trying to look on the bright side of things, Cynthia took Jasmine's move as a sign that she needed to dedicate more time to herself and her dreams. That's when she enrolled in St. Kitts University's School of Medicine, eventually graduating with an MD in general medicine. Ironically, Jasmine had just recieved her medical degree as well.
It happened just like that: after years of hard work and sacrifice, Cynthia and Jasmine became doctors at the same time. Their degrees aren't in the same discipline, however. Cynthia is a doctor of general medicine while Jasmine is a surgeon. When asked about living so far apart, Jasmine stated, "It was really hard at the beginning. My mom and I have always been really close, so we had to get used to the distance, comunicating with each other over skype when we wanted to talk about our problems."
Although they lived far apart, in some ways, they grew even closer together. During exam periods, they were there for each other, helping the other out with their studies. They may have had some sleepless nights, but they could always count on each other when no one else was around. Their hard work, as we have seen, paid off in the end. Once Cynthia graduated with her degree, she was pleasantly surprised to find out that they had assigned her to the same hospital as Jasmine. The hospital was located in Louisiana, from which Jasmine had just completed her degree.
Separated for years, this mother-daughter doctor duo no longer have to be apart! Now, they can work side by side, in the same hospital, for as long as they want! As a mother, you always want what's best for your children. After they have grown, it's important to remember that it's not too late to achieve the dreams you put on hold while raising them. Take it from Cynthia, if you put your mind to it, nothing is impossible.