4 boys save a drowning girl: they are rewarded with a lifetime supply of hamburgers
There are moments in life when what happens around us leaves little room for thoughts and evaluations, because we must act and do so as soon as possible. We are talking about all those emergency situations that require immediate and decisive intervention, which makes the difference between life and death.
The four American boys who, in Jackson Park, Missouri, were swimming in the creek of the local park, having fun as they had done so many times, know this well. The tranquility and lightheartedness of the situation, however, were soon broken by an event that could have had a tragic ending to say the least.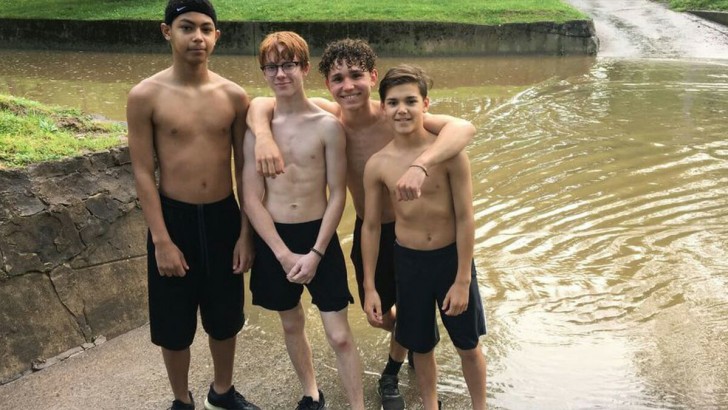 A little girl who swam not far from the group of young people suddenly disappeared under the water. With the rains of the previous days, the water level of the stream had risen, creating dangerous currents. Immediately, the four wondered what had become of the little girl, named Kinsley Stuart, when one of them - Aiden - noticed a little hand sticking out of the water near a bridge. The little girl was under there and couldn't get back to the surface unaided.
The current was strong and, although Aiden had managed to approach and grab her, he was unable to bring her to safety alone, so he called his friend Isaiah to help. He too, in a moment, approached and was followed by the other two boys: all together they fought against the current and managed to pull out the little girl, who would surely have risked drowning.
After getting out of the water, the girl was immediately taken to hospital, where luckily the doctors checked she was in good health. Everything ended well, therefore, and for the boys, at that point, a tasty and well-deserved reward arrived. Kinsley's parents, having learned of what had happened and the heroic rescue carried out by the young people, decided to give them a lifetime supply of ... hamburgers.
That's right: being the owners of a "Kenny's Flippin 'Burgers" shop - specialized, as you can guess from the name - in the tasty sandwiches - they thought that such a reward was the least they could offer to those who, courageously and without hesitation, had saved the life of their little girl. The four will be able to eat for free from them forever and, even if there is no sandwich or sum of money that can best express the gratitude of the parents, the boys will surely be happy.
A beautiful story with a happy ending, which shows how each of us can put into effect gratitude, courage and altruism by becoming the protagonists of exemplary gestures.