Coronavirus, a delivery man is fired after a camera "catches" him smearing a package with saliva
In one of the most delicate moments in our history from the health point of view, there are some reprehensible anti-social behaviors that can endanger health and cannot be accepted at all. In fact, many still feel "immune" to infection by Coronavirus, taking things lightly with deliberate and inconsiderate actions. This Los Angeles man can say that he received an Amazon package from a courier with a "surprise" that he really would not have expected.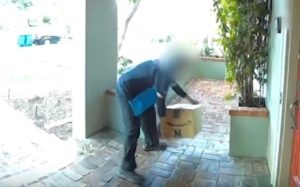 In fact, the man's CCTV cameras filmed a reprehensible scene: an Amazon delivery man left the package to be delivered, but not before having literally spat and smeared the external container with his saliva, evidently leaving the whole package visibly dirty to the naked eye.
Left speechless, the recipient of the package immediately contacted Amazon, who apologized, fired the reckless delivery man, and gave the man a $50 online voucher.
Regarding the incident, Amazon officially stated: "This is clearly not representative of the drivers who deliver for Amazon and the care they give to customers around the world every day. We are investigating rigorously to understand what may have happened in this situation. If it has really been a malicious act on the part of the driver, we will make sure that he is held liable, even to the extent of involving law enforcement and dismissal action in the case."
In times of global pandemic and fear of contagion from Covid-19, this is a truly deplorable act that should be punished with the maximum penalty.