This woman found out that she had breast cancer two months into her pregnancy; despite her doctor's advice, she trusted her instincts and kept the baby
Sometimes in life, certain situations come along that seem so beyond our own control that we have no other choice but to leave it up to God or the Universe to intervene. If anyone had told Ana Beatriz Freccerio Schmidt that she would have breast cancer at 32, she never would've believed them. Try being 2 months pregnant and finding out, which is exactly what happened. At first, she didn't know what to think or how to handle it. Her doctor continued to advise her to abort the baby, considering she could lose not just the baby but her own life. Bia and her husband, however, saw it differently from their doctor. Perhaps these two conflicting situations happened contemporaneously for a reason. So, despite her doctor's advice, they decided to keep the baby and have faith that everything would work out.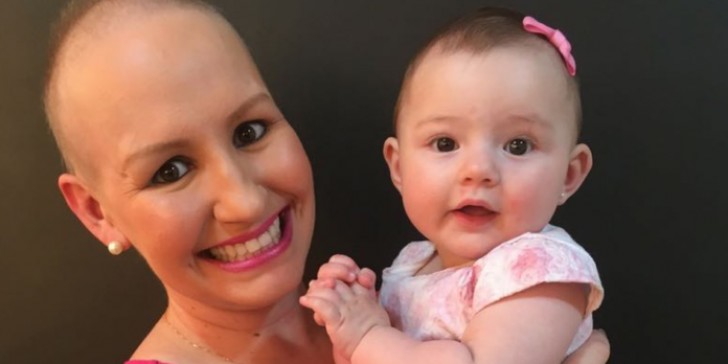 Bia, what all Ana's friends call her, already has 2 other kids. Mathew, the oldest, is 11 while Daniel is almost 2. When Daniel was 7 months old, Bia had already supsected that something serious might be wrong with her. One day, while she was breastfeeding Daniel, he suddenly detached and moved away from her breast. Trying to understand why her son had that reaction, she started examining herself; that's when she felt a small lump. The following day, she had a mammogram and the results were not so positive. Turns out, she had a tumor and it was cancerous. To make matters worse, she was also two months pregrant with her third child.
The first doctor with whom Bia consulted suggested that she should have an abortion. Having cancer would only complicate the situation and put not only the baby's life at risk but her own. Bia, however, didn't want to hear any of it... for her, ending the pregnancy was absolutely not an option. She had to make a tough choice, but in the end, she decided to follow her instincts, which was telling her to not only fight for herself but also for her unborn child. "I believe in life and in love and I never would have sacrificed the life of my daughter to save my own," Bia stated.
"I didn't have the right to do it... either we were going to survive together or die together, that's how I saw it." - This is a statement coming from a woman who went through several cycles of chemotherapy treatments, the loss of her hair, and a lot of pain. She may have lost her hair, but she gained something more special in the end: her daughter.
To demonstrate just how strong and corageous Bia was during her pregnancy, she fought cancer without the help of pain killers, antibiotics or other pharmaceutical aids (substances that could have caused harm to the baby). Not one time did Bia complain. She knew there was no time for feeling sorry for herself if she was going to beat cancer and give her daughter, little Louise, a chance at life.
Now Louise is almost 1 years old and Bia is in the best shape she's ever been in; even her hair has started growing back. We are so glad to see that Bia is finally able to breath a sigh of relief and find comfort in that fact that she never once doubted her instincts. You are an inspiration to us all!