14 photos of dads who absolutely did not want a dog and who now can no longer do without it
"I don't want a dog at home!" - how many of us have fought and lost this battle against our parents? In particular, against the intransigence of our father, a man of sound principles and strong opinions, who certainly would never have bowed in front of the sweet eyes of a puppy a few months old. Sure. They all say so. We, poor animal lovers, have been trying to convince them to take a furry four-legged friend to love forever, since we started to master the language, but they have always scolded us and looked at us with an air of fake malice . A tactic that, in effect, has kept us from continuing to hope to have a dog for all the years to come. But hope is the last to die, right? And, in fact, there comes a certain point that even the most intransigent father "converts", agreeing to welcome a dog into his home.
Some examples of dads that said "I don't want a dog, not now, not EVER":
1. The one who spread it around that he was not an animal lover ... but today sleeps with his favorite puppy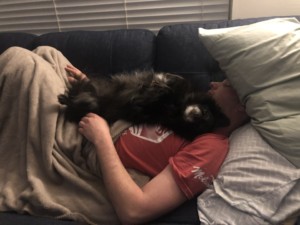 2. "We will NEVER have a dog," said the man who now entwines his suspenders with the collar of his pet
3. "My father has never been a dog lover ... NEVER. Now he always carries Yuki with him wherever he goes, even on the boat and always talks to her"
4. "My father, said " I don't want a dog ", but dressed the dog in one of my dresses from when I was a little girl, which, in theory, should have been given to his granddaughter"
5. "Dad absolutely didn't want a second dog ..... Then for Christmas they sported the same pyjamas"
6. He didn't want to know ... and now he can't do without cuddles!
7. My husband 1 year ago: "We will never have a dog!"; my husband 2 days after adopting this dog: "Aww, she keeps crying, can't we make her sleep with us ?!"
8. Pit Bulls are dangerous they say, don't they? Sure they are....
9. My father said he didn't love dogs, but he built a mini house for ours!
10. My dad was the guy who screamed "no dogs at home" and now he can't help spending time pampering his best friend!
11. Even when Dad goes out shopping he takes Mr. Brow with him: he loves it!
12. This photo was taken 3 months after claiming that I absolutely didn't want a dog
13. It is evident that we are faced with a person who deeply hates dogs