A 5-year-old boy with brain cancer had a dream of riding a unicorn that came true
Wyatt Haas, a 5-year-old boy, forced his mother to take him to a "unicorn store" after seeing one of the mythical creatures participate in a party organized for him by his kindergarten class.
He could have chosen to ride a pony or a horse, but the little boy chose something much more incredible—a unicorn!
Wyatt had been diagnosed with a brain tumor, only a month earlier, and his mother could not help but try everything she could to give her son this wonderful experience.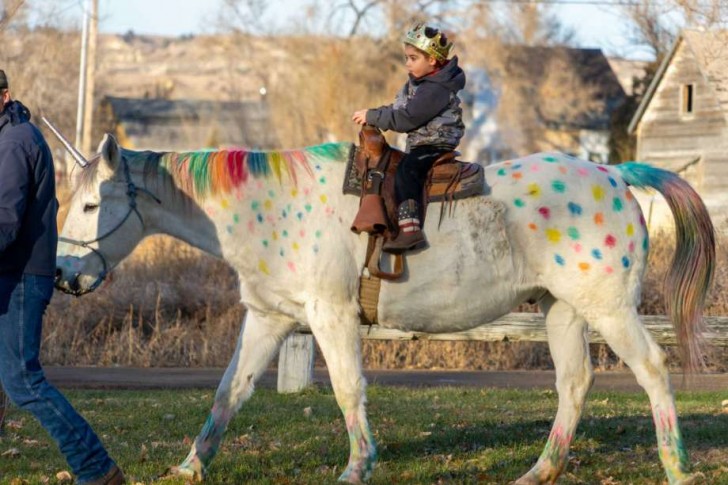 Wyatt could not believe his eyes when he saw his unicorn!
The party they had organized for him, gave the whole class an opportunity to say goodbye to Wyatt before the little boy left for the St. Jude Children's Research Hospital in Memphis, Tennessee.
Unfortunately, young Wyatt had been diagnosed with infant medulloblastoma, the most common malignant brain tumor in children.
St. Jude doctors hoped to be able to remove the tumor without any negative consequences. The party, held days before his surgery, was organized by Jennifer Nielsen, the mother of one of Wyatt's classmates.

"His situation affected me a lot because my son is Wyatt's age and the same thing could have happened to us," said Nielsen.
The woman's family owns a cattle farm and one of their horses, Bonanza, with its unusual luminescent white color, was the protagonist of the party.
The horse was first painted in the colors of the rainbow and then a cute horn was added to make it look like a real unicorn.
With just three days' notice, most of his classmates were able to attend the party for him that was held in a local park on Saturday, 07 December 2019.
Each of his classmates took a ride on the "unicorn", including Wyatt, who is obsessed with these fantastic mythical creatures.
On this Facebook page, you can follow Wyatt's story and his journey to recovery.