This dog woke his owner in the middle of the night to warn her that her son was sick
Luke was diagnosed with Type 1 diabetes when he was only two years old. This disease requires a radical change in dietary and daily habits, and in the case of very young patients, the involvement of the whole family.
Hypoglycemia episodes can, in fact, be quite severe and make parental intervention or whoever is present at that moment necessary.
Luke is a lucky child who can also count on the help of Jedi, a dog trained to seek help when the boy has a lowering of blood sugar, and in fact, Jedi, has already saved his life once before ...
That night Jedi was sleeping as usual near Luke's bed when Jedi suddenly went to the parents' bedroom to wake up Luke's mother.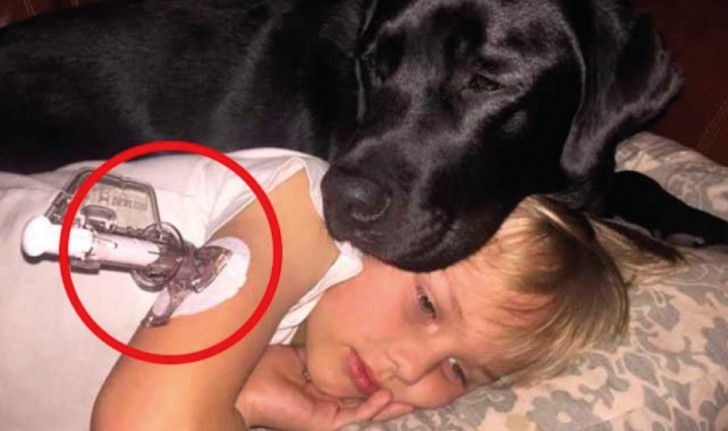 Luke's mom, Dorrie noticed that the dog was agitated and knew immediately that something was wrong with her son. She measured Luke's blood sugar and found that he was experiencing a drop in his blood sugar level.
Luke has a device that measures his blood sugar level, but trained dogs can smell changes in blood sugar levels and call for help.
Jedi has been trained to communicate Luke's blood sugar levels --- if it is low, Jedi will fall to the ground and if it is high, he raises a paw.
The great responsibility that Jedi has is appreciated and reciprocated by the love and affection that the whole family gives him. Without Jedi, life would be much more difficult.
In the world, millions of people suffer from Type 1 diabetes, which normally affects children and young adults, and very few can rely on the help of a dog like a Jedi.
Luke's mom manages a Facebook page that explains the daily complications that a child with diabetes has to face. In this way, she wants to raise public awareness of this disease, and push researchers to find a cure.

Jedi has saved this child's life, and for that, besides being Luke's best friend, Jedi is also a hero. Animals, like Jedi that live with humans to watch over them, must be admired and embraced as true guardian angels.