Discover how to easily keep your bathroom in order and functional!
1. A new way to hang bathroom towels.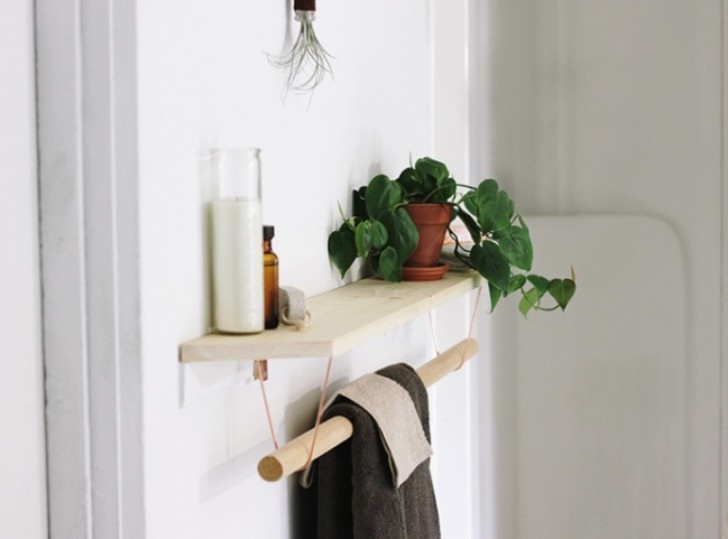 2. Solid wooden shelves on which to place extra towels and other bath items.
3. Hang wicker baskets to hold soaps and towels.
4. A cloth covered magnetic makeup board helps keep your makeup in order and easily accessible!
5. To efficiently dose toothpaste you can apply a soap dispense, once it has been thoroughly cleaned.
6. Attach a document holder inside a bathroom cabinet door and you will have extra space for many bathroom objects!
7. A very economical shelf made from a wooden pallet.
8. Have you ever thought about exploiting the space above the doors? Do it by installing a simple shelf.
9. If you do not want to leave everything in plain sight, place baskets on the shelves and then you can put whatever you want inside the baskets without renouncing order!
10. To make the most of the space you have, you can create multiple shelves.
11. You just need a wooden plank, glass jars (mason jars), and thin metal strips to create this very useful and practical way to keep things organized.
12. Attach hooks inside the doors to have all the electrical appliances used in the bathroom at your fingertips.
13.One shelf -- many different uses! You can create a towel rail and a shelf with a single cabinet.
14. To keep metal objects in order such as tweezers, scissors, and bobby pins, etc. just attach a magnetic bar to a wall.
15. These nice baskets can contain towels, toilet paper, and various other kinds of items, thereby helping to keep the bathroom neat.
16. Decorate with elegant labels glass jars that contain cotton, makeup remover cotton disks, and various bathroom product samples.