This dog clings desperately to his owner when he realizes that he is being left at the animal shelter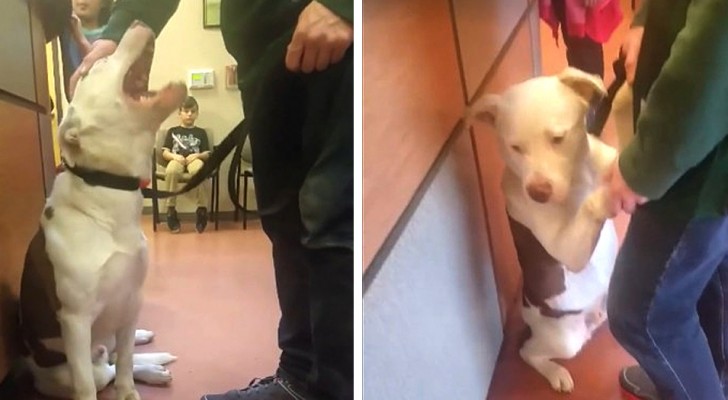 Advertisement
Unfortunately, it is not uncommon for a person to be forced, for various reasons, to be separated from their dog.
However, our four-legged friends are not "accessories" that we can dispose of at our leisure, but living creatures that deserve respect and attention just like humans.
Nevertheless, many people, after the first moment of enthusiasm has passed or because of money or work problems, realize that they are not able to take care of a dog and decide to part with it.
A case in point is what happened to Moses, the pit bull dog that is the protagonist of our story.
Moses is a very sweet dog that, with a simple and spontaneous gesture, has touched many people, demonstrating once again how strong the emotions of these animals can be.
Advertisement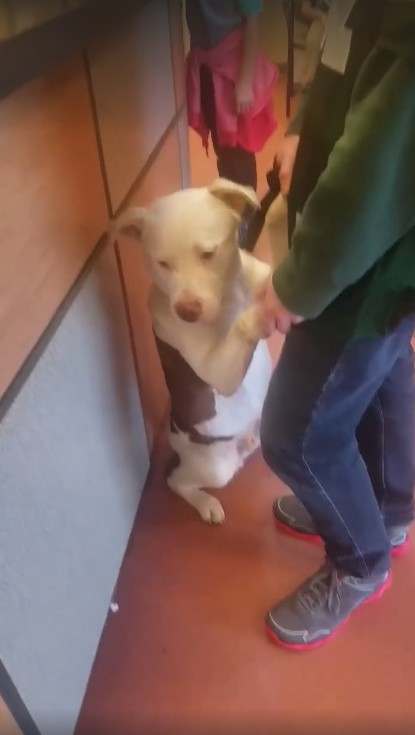 Moses had been living with the family that had adopted him for about a year when for various contingencies, his owners were forced to move to a smaller house.
Unfortunately, the only house in which they could afford to go and live did not have had enough space to accommodate the dog as well.
So, they decided to take the pit bulldog back to the animal shelter from which they had adopted him.
A harrowing decision, that had somehow already been perceived by the dog a few weeks before he was taken back.
Dogs, in fact, are able to feel and understand such things thanks to their enormous ability to tune into the emotions of the humans around them.
In the days leading up to his return to the animal refuge, Moses literally lost all enthusiasm and frequently started crying.
Advertisement
Therefore, the expression of Moses' enormous pain was predictably manifested at the moment of parting.
At the shelter, when his human friends were saying farewell to him, the dog literally begged them not to leave him there.
At that point, Nancy Klein, a volunteer at the facility, filmed the scene in a short video that has been viewed around the world on the Internet.
In the video, the dog seems to be asking for help, clinging to his owner, desperate at the thought of having to remain without a home and a family again.
Moses did not know, however, that his stay in the animal shelter would be rather short!
Luckily for him, and thanks to the commitment of the refuge volunteers, Moses was soon adopted by a new family, that is much more economically stable, where he again found all the affection and love he needs.
The video that shows him sadly clinging to his previous owners not only served to generate many requests for Moses' adoption but also to spur many people to go to the animal refuge asking to be allowed to adopt a dog in need ​​like this wonderful pit bull.
We hope that more and more dogs will find the love, warmth, and happiness they deserve!
Advertisement