After he had spent Christmas alone for 20 years, student volunteers brought a Christmas tree and a choir to this man's house
The Christmas holidays are a time of year when being together with our loved ones is a real tradition.
Everyone tries to spend peaceful and happy moments with their family, and for many, this is the best part of Christmas.
Unfortunately, however, it is not always guaranteed that everyone has the opportunity to share this happiness with the people they love.
In fact, many find themselves alone just when they feel they would like more company. This is especially true of the elderly, who are at risk of experiencing some rather sad and depressing days during the Christmas holiday season.
For Terrence, a 78-year-old Englishman, unfortunately, this had been his situation for the last 20 Christmas holiday seasons. Luckily, however, everything has changed.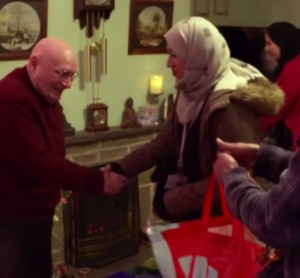 The elderly gentleman from Oldham, England, has had no one to celebrate Christmas with him for 20 years.
Certainly, this is not a pleasant condition to experience, in which no one would ever want to be. Through his volunteer work with the Age UK organization, however, things have changed for the better for Terrence.
Through the volunteer association, which helps older people find care and support, Terrence met Nancy, a 90-year-old woman with dementia.
Since, Nancy is also alone, Terrence decided to have dinner with her at Christmas. The story came to the knowledge of the BBC, and in particular the BBC Breakfast broadcast wanted to interview the 78-year-old man to tell everyone his story.
The BBC presenter Dan Walker, therefore, decided to give Terrence a very special Christmas present, not only by sharing his story but also by organizing a magnificent surprise for the elderly man, in order to create for him the perfect Christmas atmosphere.
Thanks to the help of some Oldham College students, the elderly man received a Christmas tree, completely decorated by the volunteer students themselves.
And when Terrence went to open the door, he was greeted with his favorite Christmas song "Silent Night", sung in chorus by the students who had also brought him the beautifully decorated Christmas tree.
Needless to say, the elderly man felt deeply touched at that moment. In fact, Terrence was unable to hold back his tears at the sight of such kindness and generosity.
The volunteer students were all there for him, to cheer up his Christmas holiday that, unfortunately, had always thrown the elderly man into a downward spiral of sadness and loneliness.
After his story was shared online, it was also posted on numerous social network platforms and therefore, since then Terrence has been literally overwhelmed with best wishes and messages filled with kindness and good cheer!
In fact, no one should have to spend the Christmas holiday season alone. And after all, it takes very little to make those who are less fortunate than we are in life feel loved and appreciated and know that they have not been forgotten.