At the age of 89, two inseparable friends decide to go and live together in the same rest home
Olive Woodward and Kathleen Saville, both 89 years old, have been inseparable since they first met in elementary school when they were 11 years old and lived close to each other.
Their husbands both worked in the town's Coal Council and, if that were not enough, they had also lived on the same street in Mansfield, in English Nottinghamshire, all their lives.
Kathleen, who lost her husband Leonard in 1989 after a 35-year-old marriage, moved to the Berry Hill Park nursing home in Mansfield last year.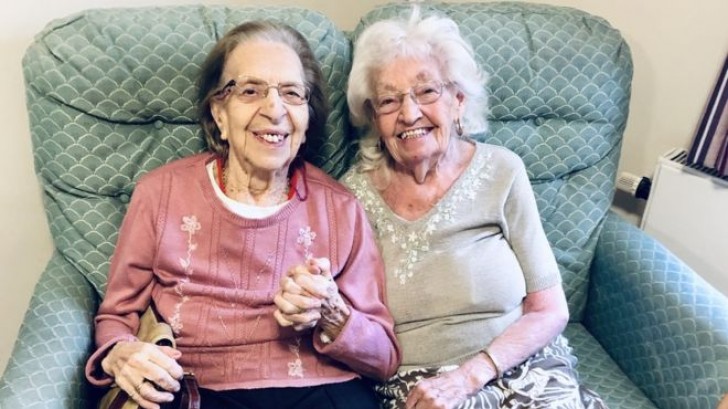 Meanwhile, Olive lost her husband Roy in 2004 and has been living alone since his death.
Until now, that is, because she has decided to join her inseparable friend in the same nursing home and to even have a room at the end of the corridor next to her friend's room.
The couple now spends all their time together and says that the secret of their long friendship is never to argue.
Kathleen, who previously worked as a supervisor at the Mansfield telephone exchange, said: "We are 89 but we look at least 63. We were good friends and we have never had a fight."
The two met when both sat by chance next to each other at the Ravenshead School in Nottingham, way back in 1941.
Kathleen married Leonard in 1954, while Olive wed Roy two years later and then had two daughters, five grandchildren, and four great-grandchildren.
Now, about eight decades after the start of their friendship, Kathleen and Olive are two of the older residents in their English nursing home.
Kathleen, who has no children, added: "It means a lot to me. We remained friends telling each other what we think and never arguing. If Olive leaves first, she'll come back for me. We'll be friends in heaven!"
A truly inspiring story for all those who sometimes do not believe in the value of friendship.
A toast to you both, Olive and Kathleen, and may your bonds of inseparable friendship and affection last forever!