A dad leaves his 3-year-old daughter alone in the kitchen for 10 minutes and she eats 18 single-serve cartons of yogurt
How hard is it to be a parent?
There are people for whom being a parent is more or less natural but, in general, no one is born knowing exactly how to behave as parents when they grow up.
Obviously, when you become a mom or dad you do not have to face only difficult situations because you also get to experience a lot of fun and laughs!
And this is especially true during the first few years when you are dealing with small children who are learning slowly, day by day, how to live in the world.
One example of this is Arron Jeff Whysall, from Nottingham in England, the father of two children, including 3-year-old Olivia, a very cute little girl, who shocked her father when he saw that she had eaten a large amount of yogurt in a very short amount of time!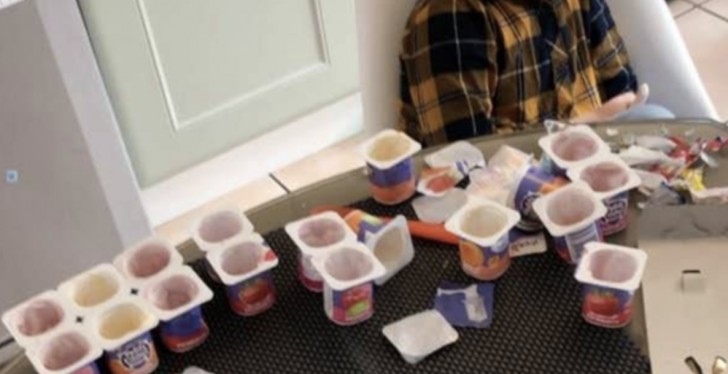 Dad Arron had left his little daughter Olivia sitting at the kitchen table when he went out for a moment in the backyard to do some gardening.
After 10 minutes, he returned to the kitchen and found himself faced with a tragicomic spectacle: little Olivia was sitting at the table, with 18 empty single-serve cartons of yogurt!
"Olivia, did you eat them all?" Asked her incredulous father. The girl, with a touch of pride and holding a spoon proudly in her hand, replied: "Yes!". And to see her expression, one would almost say that she wanted more.
After recovering from the shock and making sure that the contents of those yogurt cartons had not been used to "paint" the walls, Arron's father immortalized the memorable scene.
The photo was posted and shared around the Internet, generating sympathy and laughter. Indeed, looking at little Olivia's proud face, you cannot help but smile.