A dog chases a police car and is "hired" as a therapy dog for children
There is no doubt that the work of police officers is among the hardest and most difficult that exists.
Whoever has this job as a profession has a very strong sense of duty and even stronger desire to safeguard every citizen, no matter who they are.
This is true, especially in this real-life story, where those who were most in need of help happened to be our four-legged friends! And the protagonists of this story that we are about to narrate, certainly would not tell you differently!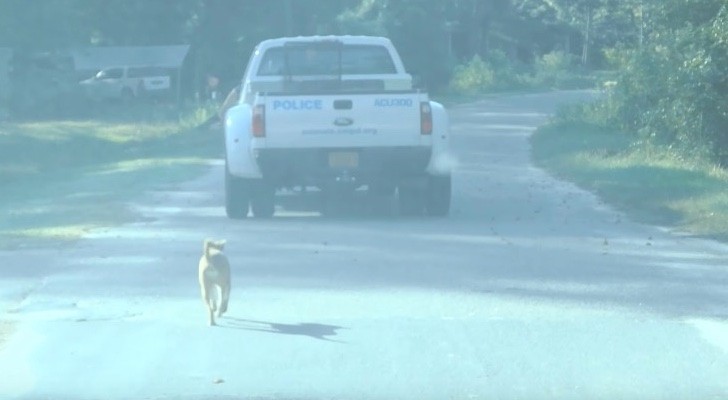 After the devastation of Hurricane Matthew in Edgecomb County in South Carolina, police officers in the town of Charlotte made their way through the flooded streets to recover and rescue the animals that were most in need after the natural disaster.
After rescuing about 200 animals from the streets flooded by a large quantity of water due to the hurricane, the Charlotte police officers suddenly realized that their work was not yet finished.
A brown dog was running alongside their patrol car, and although the police car went fast on some stretches of the street, it was clear that the dog had no intentions of leaving them!
So the Charlotte police officers decided to slow down, get the dog into the police car and take it to the shelter for animals that were without an owner.
Once in the car, the dog crouched down and fell asleep immediately as if this was where it was supposed to be - and perhaps this was a real sign of destiny.
Because, now the dog, whose owners after the hurricane Matthew were never identified, has become inseparable from the Charlotte police force!
The dog has also been renamed Charlotte, in honor of all those dogs and cats in the town of Charlotte, South Carolina that did not make it and lost their lives in the devastating hurricane.
Now, Charlotte has become a police dog that works constantly with the local police force.
As such, this four-legged friend is also an important part of a municipal education program, in which the brave and friendly police dog works in direct contact with children.
A beautiful fairy tale with a happy ending for Charlotte, an angel with a wagging tail, that was destined, fortunately, for great things!