A newborn baby girl hears her father's voice for the first time outside of the womb
There is no love more true and sincere than that between a parent and their child.
And only those who are fortunate enough to be a mother or father can perhaps understand that feeling of indescribable happiness when their child is born.
That is precisely the moment when unconditional love is born between the two individuals, a love that newborn babies can also easily perceive.
For Flàvio, the husband of Tarsilia Rosa, and the father of the baby girl, the day of little Antonella's birth was an incredible moment, to say the least!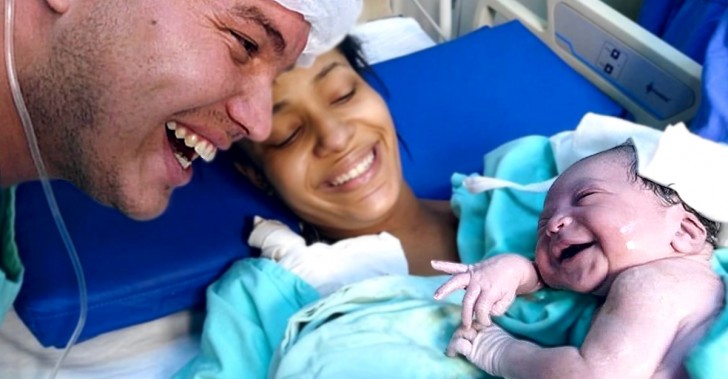 Even before her birth, Flavio spoke to little Antonella every morning, gently talking to wife's belly.
He talked his unborn child every day, greeting her in the morning and talking about anything he could think of, even though he did not really believe that his voice would reach his unborn baby's "ears".
But, apparently, he was wrong. In fact, the very day that Antonella was born, Flavio was able to see first hand the existence of an incredible connection that had been created in all those months between him and his unborn daughter.
"Hello" was the first word that the new father said to his newborn baby girl, who immediately recognized her father's voice and gave him a star-studded smile full of happiness!
Newborn baby Antonella measured 19 inches (49 cm) and weighed 6.8 lb (3.1 kg) and she is the pride and joy of her family! In addition, the photo of Antonella's star-studded smile has already made her "a celebrity" all over the world.
In any case, that stupendous smile is an especially heartwarming testimony of the unconditional love that is created between a parent and their child - including when the unborn child is still in the mother's womb!