A zookeeper is terminally ill and this giraffe says goodbye to him for the last time with a "kiss"
The bonds we establish with animals go far beyond our imagination.
In fact, they are not "just animals", they are living beings with emotions and they often show us how much love they feel towards us through their amazing and totally unexpected gestures.
Case in point is a caretaker at the Diergaarde Blijdorp Zoo in Rotterdam, Holland, who had only one last wish before leaving this world.
Namely, to once again see and say goodbye to his beloved giraffes, with whom he had spent his entire working career.
The love between these giraffes and the man who had been their caretaker was a very special type of friendship, demonstrated by a farewell kiss that a giraffe gently gives him, in the man's last moments of life.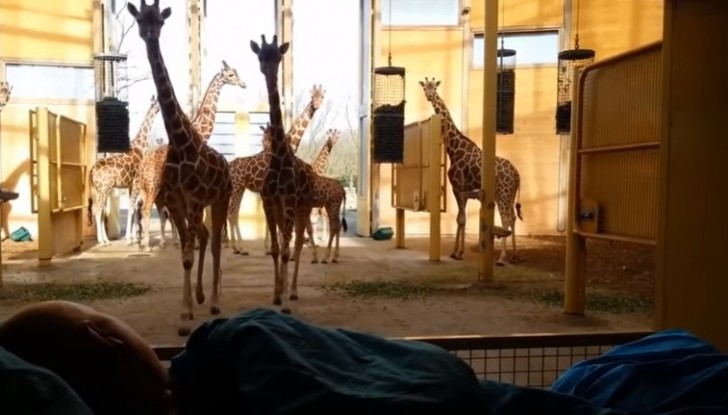 Regarding the zoookeeper we only know his first name, Mario, and that at 54, he was dying of inoperable cancer.
The fifty-four-year-old man had expressed his desire to say goodbye to his beloved giraffes for the last time; those gentle and affectionate creatures that he had looked after and fed for many years.
The Ambulance Wish Foundation succeeded in realizing the last wish and desire of the dying man, by transporting him in his hospital bed directly to the zoo and placing the bed beside the giraffe enclosure.

Mario was responsible for cleaning the giraffe enclosure throughout his career at the Rotterdam Zoo and he had learned to love these docile creatures very much during his working career at the zoological park.
As can be seen from the video, one of the giraffes approached Mario to give him what appears to be just one last goodbye kiss.
Although there are conflicting thoughts about the question regarding animal feelings, science has repeatedly reported examples of empathy among other living beings (such as in orangutans, the species most similar to humankind).
Scientists at the University of Bristol, for example, believe that animals do indeed have emotions and that these emotions are fundamental, as they could play an important role when there are signs of danger or important choices to be made.
Here we witness the moving scene between Mario and his giraffes - a scene, which shows the strength of the wonderful bond that can be created and maintained between a human being and an animal.