Coping with a degenerative disease, this 13-year-old boy receives 18,000 birthday cards at home
His name is Rhys and he lives in Bolton, a town in the province of Great Manchester in the northwest of England.
Rhys is 13 years old and he has been fighting against epidermolysis bullosa all his life.
It is a rare genetic disease that affects 1 in 17 thousand people worldwide.
This pathological condition causes lesions and blisters in the skin and also in the internal mucous membranes that can occur at the slightest physical contact or even spontaneously. Currently, there is no cure.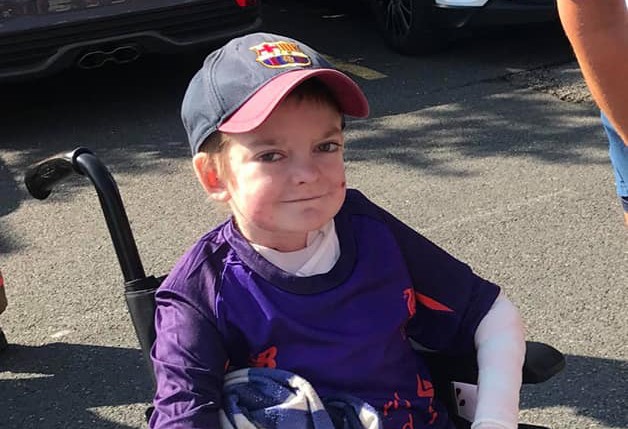 Rhys was 14 years old on 21 September 2019, and he did not ask for birthday presents as any other teenager would. He expressed only one wish: "I want a butterfly to take me away to a place where there is no more pain." The young teenager is now confined to a wheelchair because the skin on his knees is so tight that he cannot stand upright.

His body is covered with bandages that need to be changed three times a day and he is only fed with liquid food because solid foods can tear his esophagus. Rhys has been fighting since the day he came into this world, but in recent months he has begun to lose the will to go on living.
A normal life for him is just a mirage and, in any case, not even a memory, because he has never known what it means to go out with friends, take a vacation with his family, or play like all the kids his age. The days follow one after the other, between school, TV or videogames, until the time comes to go to sleep and when he wakes up, it starts all over again.
Last year for Christmas, his mother asked everyone she knew to send her son a greeting card, and hundreds of people responded to this request.
However, the last few months have been very hard for the young teenager, and he is running out of resistance after so much suffering.
His mother is devastated to see her young teenage son in this condition and she cannot even hold him in her arms, for fear that she will injure him. She would like for him to no longer feel pain but at the same time, she is not ready to let him go.
Consequently, she has once again launched an appeal on the Internet for people to send Rhys postcards so that by looking at that mountain of postcards he can know that he is not alone, that there are so many people who love him, and that he still has a reason not to give up.
Postcards can be sent to the address: 40 Whalley Avenue, Bolton, BL1 5UD - England, UK. For more information, visit the social media page.
A hug from our side of the pond, too, Rhys!