This young man has upcycled hundreds of old rubber tires creating beautiful beds for stray animals
In Campina Grande, Brazil, there are many stray animals, more than 500% compared to homeless people.
The stray animals are mainly dogs but also cats, that have no home or shelter to stay in and wander the streets aimlessly. 
Consequently, a local artist has decided that he wanted to do something to help solve this long-standing problem.
Thus, from a simple grocery store clerk, he has become a famous personality known to many people, and not only in his own city.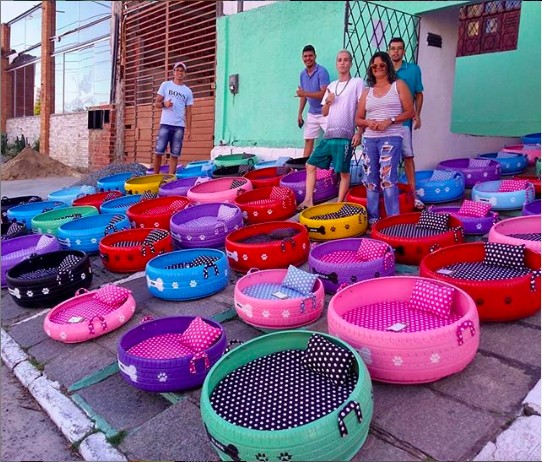 The intent of the 23-year-old Amarildo Silva Filho was to give shelter to stray animals and, at the same time, to make a significant contribution towards managing waste and environmental pollution.

How? By using used rubber tires and turning them into beautiful beds for stray dogs and cats. Walking down the street, Amarildo had noticed that he often saw dogs huddled and sleeping in old abandoned rubber tires.

He then thought of collecting the thousands of old rubber tires abandoned by the roadside and in parking lots. Once cleaned, painted, and decorated, Amarildo places cushions inside the old rubber tires, so that the animals can be comfortable.
In the name of sustainability, Amarildo is thus removing a very large number of used rubber tires from the environment, which would have taken up to 80 years to decompose.

The new beds for stray dogs and cats are really comfortable and unique! Each one is, in fact, decorated in an original and creative way.
Now, Amarildo is doing what he has always dreamed of, namely, working as a true professional artist, who has started a profitable and eco-sustainable business thanks to his inventiveness and tenacity.
His upcycling projects are so appreciated that they are the subject of lessons in schools and presented during local events.
Moreover, along with making beds for stray animals and regular pets, Amarildo has decided to upcycle and decorate abandoned rubber tires for use as planters, flower beds, and plant containers to be introduced as urban furnishings for buildings, houses, roads, and parks.
This is a really useful and original idea, which Amarildo is using to give a second life, in an artistic way, to objects that otherwise would continue to be seen as only unsightly, pollutant waste material.