These hedgehogs are orphans, but a very special adoptive mother comes to their rescue!
For most mammals, which usually feed and care for their young, the loss of the mother inevitably leads to the death of the newborn offspring, as well.
This happens because, without the food and warmth provided by the mother, these young mammals are destined to die. 
Yet nature sometimes has a different plan in store!  In fact, it is not uncommon for mothers of other species to willingly accept looking after young orphaned mammals, even if they are from a very different species.
This is exactly the case with mother cat Musya and her eight adopted newborn hedgehogs.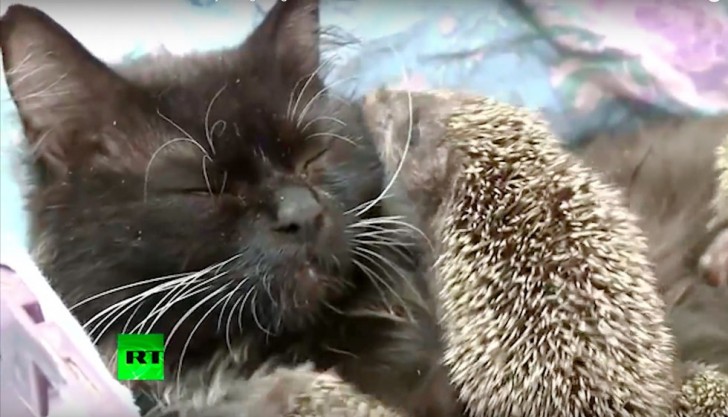 When the eight newborn hedgehogs were left without their mother, that was accidentally killed by a lawnmower, they refused to feed on bottles or syringes.
Therefore, the employees at the zoo in Vladivostok, Russia, wanted to make a final desperate attempt to save the young hedgehogs. They decided to try to introduce the young hedgehogs to mother cat Musya, who had just weaned her own kittens and was therefore still producing milk.
The staff at the zoo were not sure if it would work, but the outcome surprised them! Not only did the cat not make any resistance, but neither did the young hedgehogs that immediately got used to Musya's scent, and started to feed on her precious milk.
In short, Nature immediately understood how to provide a solution, surpassing even the most optimistic expectations. Congratulations to this lovely new family!