He threw 8 puppies into a garbage bag and the police intercepted it and arrested him!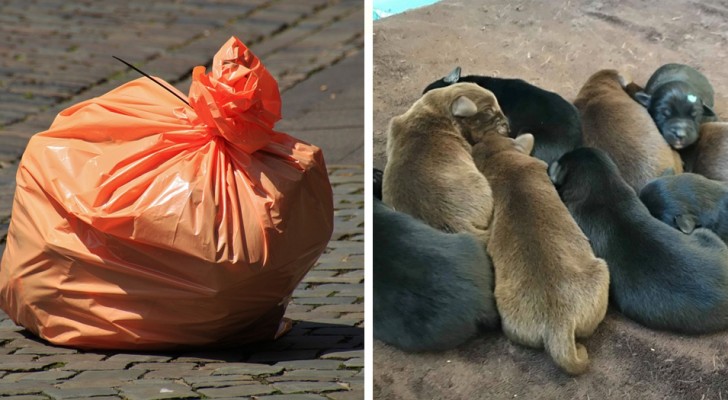 Advertisement
Never before has the animal rights movement counted so many supporters all over the world, not to mention the increasing number of people who have changed their diet and lifestyle by becoming vegetarian or vegan.
However, many also say that now people often exaggerate in their manner of expressing their love for their four-legged friends and that it often borders on being excessive.
In any case, regardless of opinions, there are also those who, on the contrary, show that they have absolutely no respect or compassion for animals.
Advertisement
An incident like this occurred on 28 February 2019, in the town of Marshfield, Wisconsin (USA), located halfway between the counties of Wood and Marathon.
Around 3:00 in the afternoon, the local police received a report from some residents who claimed to have heard noises coming from a nearby garbage dumpster.
After arriving at the location, the police officers discovered that an entire litter of pups consisting of eight specimens of mixed breed Australian Shepherd and Labrador puppies had been tied in a sack and thrown in the garbage dumpster.
Advertisement
The owner was identified as Robert Wild, 56, promptly arrested and taken to the local police station.
The man was detained on charges of mistreatment and abandonment of animals and during interrogation, he admitted to having dumped the puppies in the garbage dumpster near his house.
The puppy dogs were transported to the "Marshfield Area Pet Shelter" animal refuge center, and, fortunately, all the puppies are in good condition.
There was no news of the puppies' mother, as she apparently was not found despite searching the area. The latest news reports that the puppies are all well and are waiting to be adopted. In fact, before giving away young puppies, it is best to wait for them to grow up a little and become healthy and strong.
The news regarding the young puppies soon went viral online, so much so that the Marshfield district police received numerous requests for adoption and even donations to help the community take care of the eight puppies.
In some images that portray the little ones, it can be observed that the specimens are nine and it is not an error or an optical illusion. In fact, the last puppy was born only later and was added to the litter and raised with the other puppies. This suggests that the mother of the puppies must have also been found later.
Such reprehensible actions are classified as minor crimes, however, many people are now asking that the punishment and penalties for this type of crime be increased and enforced.
Advertisement