This woman is 87 years old and paints the houses in her hometown to make the world a better place
When there is passion, everything else takes second place and not even age is an impediment, especially when the desire to succeed in something is very strong. 
Anežka Kašpárková, who is 87 years old, is an example of how age is only an insignificant number in respect to the joys of life and living. She lives in Louka, a small town in the Czech Republic with less than one thousand inhabitants.
It is only thanks to her if her small town has become a tourist destination that is absolutely not to be missed. In fact, whether in the rain or under the scorching sun, she spends her days beautifying the walls of the houses in her town.
Why does she do it? "Just to decorate the world I live in a little bit," she says.
Anežka paints the walls of the houses of her village with floral and traditional motifs. Despite arriving arrived at the age of 87, her hand is still firm and able to draw minute details.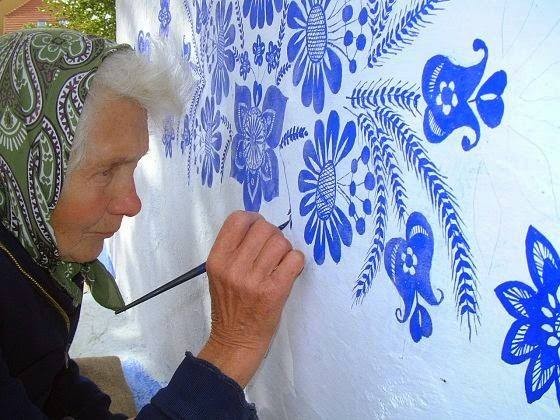 Her love for this art grew when she retired and after meeting another woman in her town who consequently, taught Anežka the secrets of the trade.
In the village, she is the only one to continue this ancient tradition. To create her paintings, Anežka uses an ultramarine blue color which is her personal signature color.
The paint that she uses is very expensive because it has to resist the sun and the elements and last a long time since there is no one else who can replace it one day.
She also takes particularly good care of the small village chapel of which she is very fond.
This elderly lady is an inspiration for all those who are afraid of the passing of time because age will never extinguish the strength of will that burns in the heart!
We should remember Anežka whenever we feel the weight of time passing, and not let us ourselves be stopped by a trembling hand or feeling a little weak, instead let's always do whatever makes us feel young and alive!