A puppy absolutely refuses to leave his beloved sister at the veterinarian clinic ...
When we speak of a fraternal bond, we mean a relationship built on affection, loyalty, and indissoluble reciprocal dedication, that is not adversely affected by time and difficulty. 
Even if being siblings does not automatically lead to the establishment of this type of relationship, growing up together definitely helps to create this connection. And it is so strong and natural that it can also be found in other animals. 

These two puppies (a brother and sister), for example, show us what it means to be siblings and overcome the darkest moments together.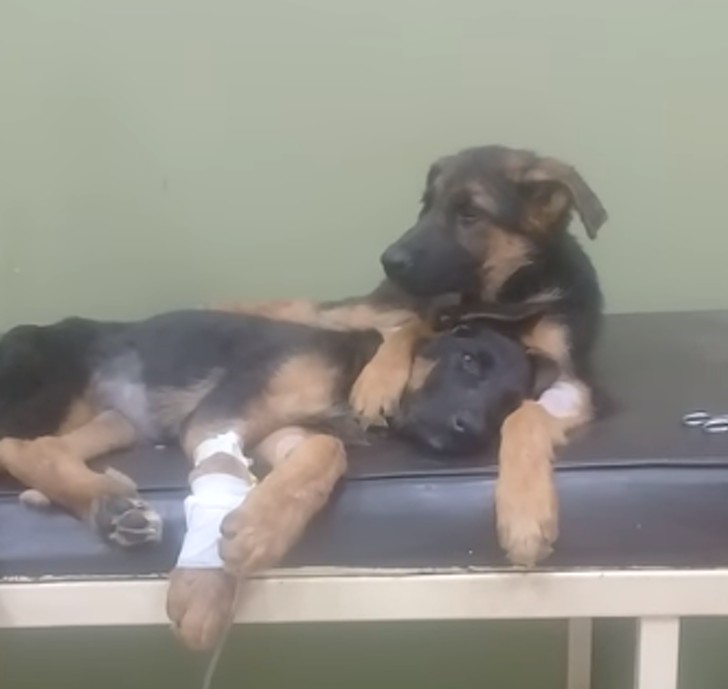 They are only two young German Shepherd puppies, but they have already seen hard times.

In fact, these two dogs contracted a terrible disease called "canine parvovirus". It is a gastroenteritis that in puppies under the age of six months can easily be fatal if not treated in a timely manner.
The most common symptoms are dysentery (hemorrhagic diarrhea), vomiting, anorexia, extreme exhaustion, and refusal to eat and drink.
Fortunately, the two puppies in question received medical treatment in time. The male puppy has already recovered and could immediately return home, but does not want to.
In fact, he has no intention of abandoning his beloved little sister right now in this scary moment. Especially since he had just passed through the same experience, and they were together, so he knows what his sister is going through.
In the video, you can see how the little brother tries to protect and comfort his sister, hugging her with a paw and placing his nose on her neck! These spontaneous gestures of affection and compassion, to let her know that until she heals completely, her brother will always be by her side.
Is not this a fantastic demonstration of fraternal love?
Related Stories