In China, a young woman faints and her dog insists on accompanying her in the ambulance to the hospital
Passersby experienced a mixture of emotions as they saw a young woman suddenly fall unconscious to the ground in the streets of the city of Daqing in China.
The young woman was not alone, she was in the company of her dog and it was he who - having ascertained that there was nothing seriously wrong with his owner --- she had only fainted, nevertheless, the dog assumed the role of a protagonist as his owner's protector.
In fact, the sweet Golden Retriever refused to leave the young woman, even when rescuers placed her in the ambulance to transport her to the hospital.
The doctors decided to allow the dog to ride along in the ambulance with the young woman because they understood that this would help her feel better and to recuperate faster.
This woman fainted suddenly while away from home walking her dog and passersby promptly called an ambulance.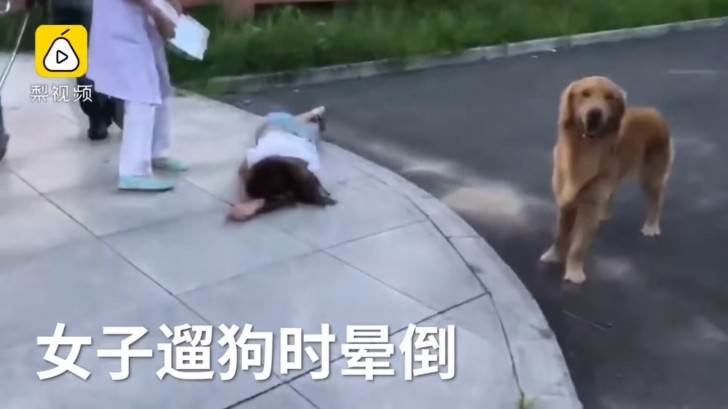 Already while waiting for help to arrive, seeing his owner lying on the ground unconscious, the dog displayed a very concerned and protective behavior. Without ever becoming aggressive, nevertheless, the dog repeatedly moved around the young woman as if to protect her and at the same time attract the attention of passersby.
The doctors placed the young woman on a stretcher, accompanied by her dog who never stopped watching over her and trying to caress his owner's face.
The doctors decided, for this specific situation, to turn a blind eye regarding the "no pets allowed" regulation.
One of the rescuers explained, "We do not usually pick up or transport animals on the ambulance, not even those owned by the people we rescue, but in this case, we felt we had to make an exception. Because not only did the dog calm down only when he could stay close to the young woman, but we noticed that when the young woman regained consciousness, she remained awake because she was busy caressing the dog and trying to reassure him. It was important that the young woman did not fall asleep, so we allowed her dog to ride in the ambulance".
The video has been seen around the world and fortunately, what happened was nothing serious for the young woman! However, it was a minor incident that provided an opportunity to showcase, once again, the pure love that a dog can have for its owner.