Man saves 50 people by donating his organs; doctors and nurses commemorate him with an "Honor Walk"
Life can change in a moment in ways that we could not foresee and that can severely upset us; because nothing will ever be like it was before.
Knowing how to accept change and to take the path that opens up in front of us, is a difficult challenge that is imposed on us, but one that if we succeed in facing can help us to move on - so that once again we can find light and hope.
This is what the Schnieders family did when struck by a terrible tragedy, they found in the extreme act of generosity of their family member, the strength to go on, consequently, giving hope to dozens of people.
Published by Carrie Schnieders on Saturday 30 June 2018
The life of the Schnieders family changed dramatically on 19 June 2018, when Cletus, age 41, father of three children, was suffocated by a piece of meat. Despite the rapid intervention by his wife Carrie, and then of the emergency rescue team, there was nothing that could be done and after two days the doctors declared Cletus brain dead. But this was not to be the last memory that Cletus left behind of himself.

In fact, Cletus had authorized the donation of his organs and his wife, therefore, decided to respect her husband's wishes and in this way, Cletus's tragic end has given hope to many other people.

This decision saved the lives of three people, who received Cletus's kidneys and liver, while another 47 people benefited from the precious gift of his organs. A total of 50 people whose existence was able to start again thanks to the incredible gesture of the Schnieders family.
Recognizing such generosity - but also the family's pain - Mercy West Hospital in Cincinnati wanted to thank the Schnieders family, and honor their extraordinary gesture. So an Honor Walk was organized for Cletus, where doctors, nurses, relatives, and friends all lined up along the hospital hallway as Cletus's body was carried into the operating room for organ donation. Present were a total of about 150 people who wanted to say goodbye and to thank Cletus for the enormous gift of his existence.

"Letting him go was the hardest thing I've ever done." commented his wife, Carrie Schnieders. "Friends and relatives continue to contact me saying that it was an honor to say goodbye to him in that way and that it was one of the most heartbreaking moments of their lives."
The photo of the Honor Walk that Carrie took and posted on Facebook has been copied and shared by various organ donation sites, making the Schneiders family's story known, with the result that many people have written to pay homage and to encourage her.
"The stories of the organ recipients were honestly the only thing that kept me going those first days after the loss of Cletus," says Carrie.
In particular, she was contacted by John Mock, who had received her husband's liver; and who asked to be able to thank her in person. So on July 18th, the Mock and Schnieders families met and it was an emotion that could not be described in words, but can be seen and clearly understood thanks to the video clip of their meeting.
Not to be missed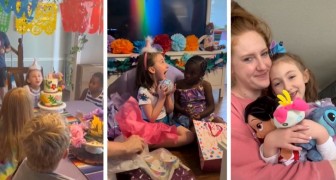 TOP