22 practical gadgets that should not be missing from your kitchen!
1. One set of containers to rinse fruits and vegetables, but also to drain the pasta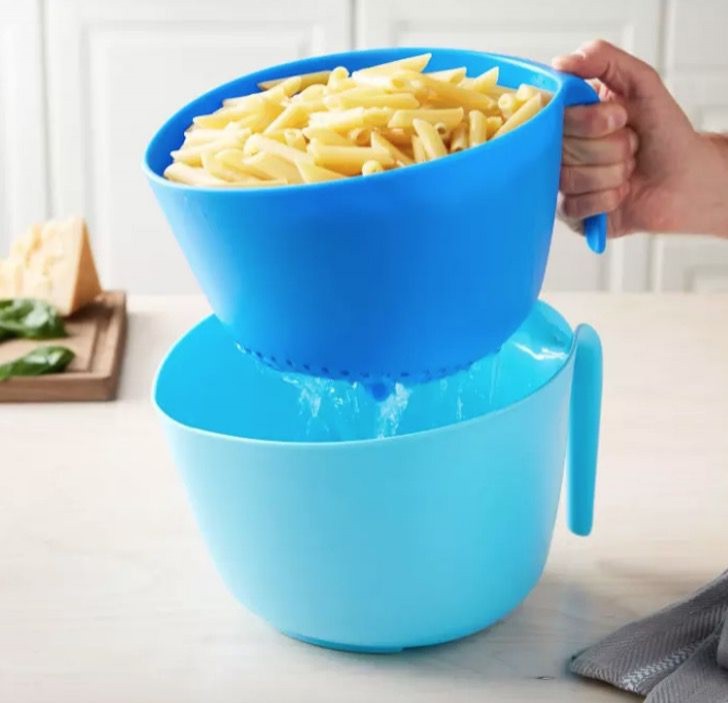 2. A peeler with three rotating blade types: standard, serrated,and julienne
3. A formidable kitchen appliance that is a7-in-1 Multi-Use Programmable Pressure Cooker, Slow Cooker, Rice Cooker, Steamer, Sauté, Yogurt Maker, and Warmer.
4. Can opener and bottle opener in one tool
5. An appliance that not only makes the coffee and cappuccinos but also ice cream and yogurt!
 6. A multipurpose dome can be used for cakes, salad, and fruit
7. A practical multipurpose roll-up dish drying rack
8. A casserole pot made of cast iron and titanium that is ideal for all types of cooking such as stews, roasts, and fried or baked food.
9. Six-in-one essential tools for barbecuing --- extendable tongs, spatula, serrated knife, removable flashlight, bottle opener, and grill scraper!
10. A super electric pot that is great for grilling but also for slow cooking, steaming, boiling, and serving
11. Kitchen shears are also useful for separating leaves from branches
12. A perfect morning wake up with this cooking appliance for breakfast. It is a coffee maker, toaster oven and has a 30-minute timer, removable tray, and a nonstick plate.
13. A practical high resistant nylon 5-in-1 kitchen utensil that can resist up to a temperature of 465°F (240°C) and features a regular spoon, a slotted spoon, a spatula, a flipper, and a cutting edge.
14. A simple square of silicone to use as a pot holder, coaster, trivet, and jar opener
15. The perfect tool for avocados! It is used to peel an avocado, eliminate the seed, and divide the avocado into seven parts!
16. The evolution of the Swiss army knife --- now in the kitchen with 12 functions --- All to be discovered!
17. An electric kettle that can cook everything and it is also equipped with a tray separator for eggs and vegetables
18. A large and very useful fork that should not be missing from your kitchen because it can be used to crush, stir-fry, flip over, stir, whisk eggs and more!
19 Is it an immersion blender or a food processor? Both!
20. Another example of the Swiss army knife in the kitchen, with 10 features which even includes a juicer!
21. A practical aid for drying bottles and keeping pouches and bags opened
22. A fantastic super resistant and foldable colander