A woman uses 3 bags of pennies to transform the floorboards of a small, abandoned room
First of all, the material.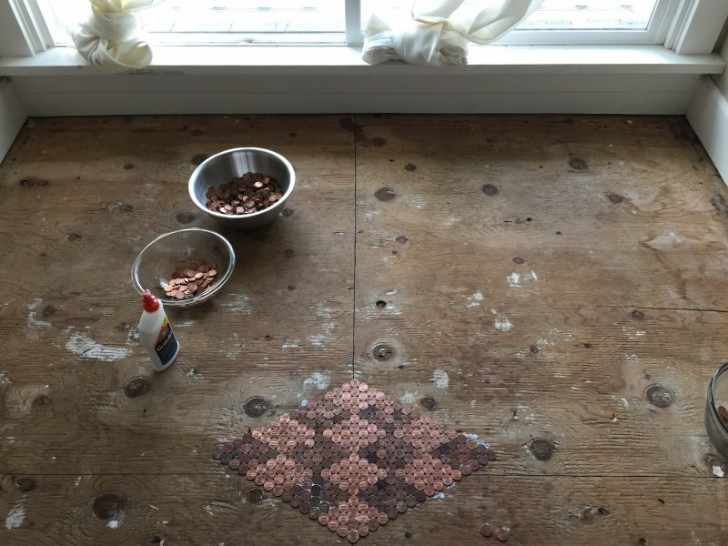 Tonya applied the coins to the floor with Elmer's glue, starting by creating a perfect square in the middle of the room.
A very shiny square, thanks to the reflection of the coins, which she arranged by alternating dark and light squares.
At the edges, she changed the design and introduced a zig-zag pattern. Not bad ---being the first day of work!
The next morning, she went back to the work full of energy, pulling out old nails with a hammer, and putting more glue on pennies that were not secure, and then she continued on with her work!
Tonya later revealed that the hardest parts to make were the corners, which required a lot of time and ... patience!
Fortunately, over time, she acquired more and more ability and managed to work faster as she moved forward!
At one point, however, Tonya realized that she did not have enough dark coins! But, being the enterprising and resilient woman that she is, she immediately found a clever way to resolve the problem.
Using liver of sulphur (ordered on the Internet), she was able to artificially patinate the coins quickly and effectively.
And we see here, slowly, her new floor finally taking shape!
The separation between the normal entrance floor and the new and very original floor covering made of coins was leveled using wood stucco.
Even before finishing the floor, Tonya realized how the lights created different effects on the coins, producing striking chromatic reflections!
Of course, with the floor cluttered with all the work tools, it was still a bit difficult to fully appreciate the overall effect of the new floor covering.
... but after having emptied the room, Tonya was able to admire the fruit of all her hard work ...
But the job was not finished yet! A layer of garage floor epoxy resin was still missing ...
... and then, just to be sure she applied a second layer.
From a closer inspection, we can also admire Tonya's scrupulousness. In fact, all the pennies are glued in the same direction! Just follow Abraham Lincoln's gaze to confirm that this is true ...
After that Tonya could declare her project to be finished and enjoy the splendid final result !!